Exploring the Best Silent Rotary Tattoo Machines for 2023
In the vibrant world of ink and artistry, the tattoo machine is more than a tool; it's an extension of the artist's hand, a brush that paints permanent masterpieces on the human canvas. Imagine the hum of a well-tuned engine, the gentle glide of a pen across paper, and the precision of a master craftsman at work. That's the magic of a top-notch rotary tattoo machine that can make the difference between a good tattoo and a breathtaking one.
We've dipped into the inkwell of research and crafted a guide to the best rotary tattoo machines available today. From the renowned to the hidden gems, we've scrutinized, tested, and compared to bring you a list that caters to every need and budget. So grab your favorite ink, settle into your artist's chair, and join us as we explore the machines that are redefining the tattooing landscape. Your next favorite tool might just be a scroll away!
Top Rotary Tattoo Machines Reviewed
The selection of these particular rotary tattoo machines for the top list is based on a combination of factors that reflect their reputation, quality, and popularity within the tattooing community. To narrow down our list and bring you the crème de la crème, we've also meticulously evaluated each machine based on several key criteria: Performance and Precision, Build Quality and Design, Price and Value, User Reviews and Professional Opinions, and Suitability.
CNC Q2 Short Pen Machine
Enter the CNC Q2 rotary tattoo pen machine – a harmonious blend of reasonable pricing and top-tier functionality. Seamlessly marrying cost-effectiveness with stellar performance, it stands as a testament that quality doesn't always come with an exorbitant price tag.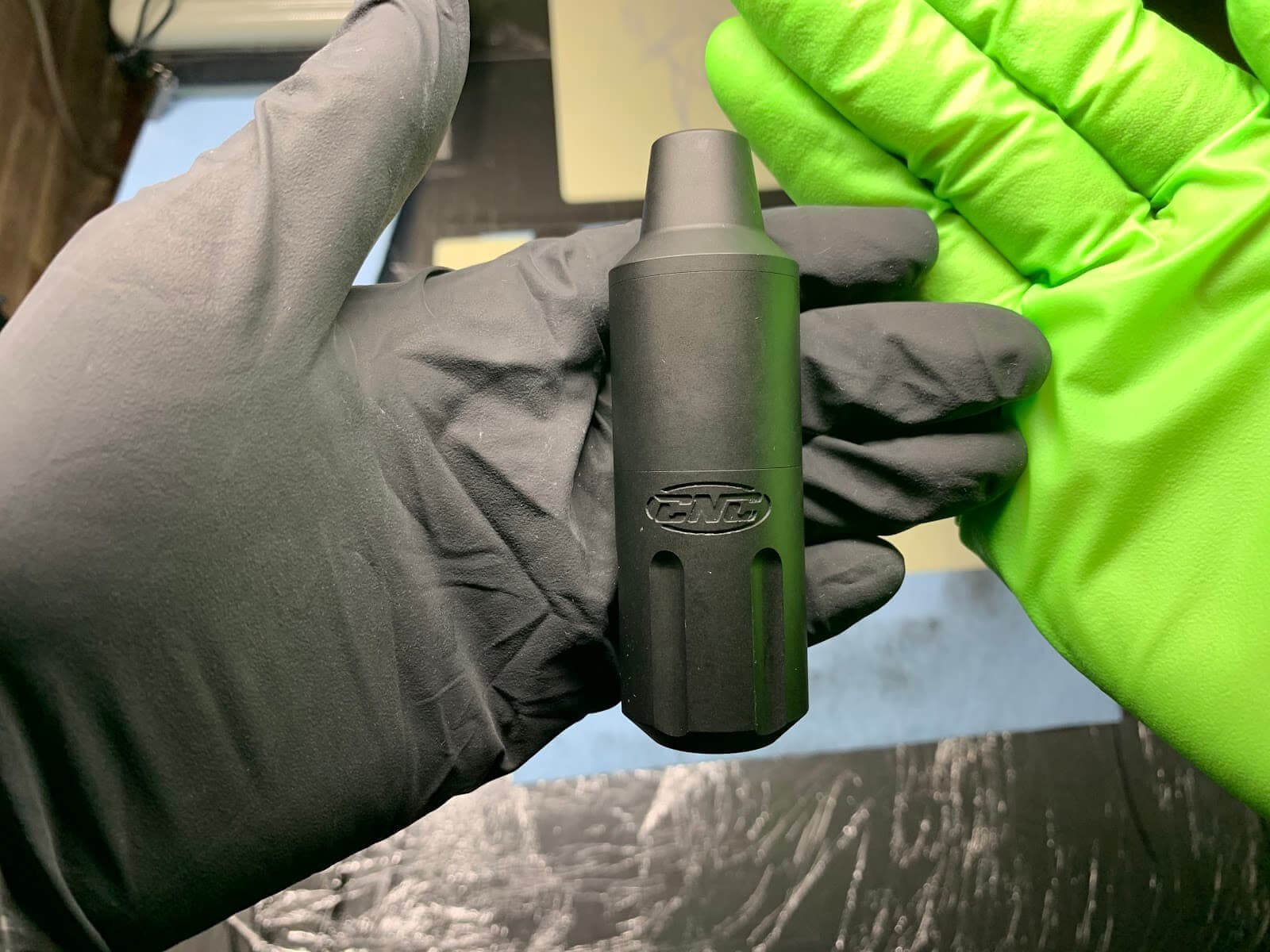 Pros:
The German Faulhaber Flat Motor that's precise, reliable, and designed to enhance the artistry
The balance between power and noise
You may adjust stroke length from 3.00 to 4.00 mm
Comes with a 1-year warranty from the manufacturer
Excellent value quote
The manufacturer's website often offers substantial discounts
Short and lightweight tattoo pen
Cons:
To be able to adjust the stroke length, you need to buy additional eccentrics ($25 each)
If you order from the manufacturer's website and the item is out of stock in the US warehouse, shipping will take about 7 days.
At the heart of the Q2 lies the German Faulhaber flat motor. This motor is renowned for its meticulous precision. For a tattoo artist, this means every line, shade, and detail is rendered with an accuracy that's hard to find in other budget-friendly machines. The motor ensures that the needle moves consistently, eliminating the risk of sporadic jitters or uneven strokes. The motor's design is not just about performance; it's also about efficiency. It ensures that the machine operates optimally without consuming excessive power. This translates to longer tattooing sessions without the constant need to recharge or worry about overheating. The Faulhaber motor's design minimizes noise, ensuring that the soothing hum of the machine doesn't escalate into a disruptive buzz.
Also, it's crafted to withstand the test of time, ensuring that artists have a machine that remains reliable in the long run. In support of this, the CNC Q2 tattoo machine comes with a 1-year warranty. This means that if any issues arise with the machine within the first year of purchase, CNC Tattoo Supply will provide warranty service to address and resolve the problem.
The CNC Q2 feels almost like a pencil in hand, offering unparalleled comfort and maneuverability. The Q2's compatibility with a wide range of needle cartridges and power supplies is a testament to its versatility. Artists can seamlessly integrate it into their existing setups, eliminating the need for constant equipment changes. Durability is a must in the tattooing world, and the Q2's aircraft-grade billet aluminum construction ensures it can withstand the rigors of daily use. It's still not a Cheyenne-level build, but it's a very high-quality build that will stand up to a lot.
Customization is key in tattooing, and the Q2's adjustable stroke length, ranging from 3.00 to 4.00 mm, allows artists to tailor their technique to each unique piece. Whether it's fine lines or deep shading, Q2 has got it covered. But note that additional eccentrics you will need to purchase; the default stroke length is 3.5mm. You can also get wireless power supplies and plug into this machine, thus getting a wireless tattoo pen machine.
Verdict: Considering all of the features, like adjustable stroke, lightweight, short construction, powerful motor, 1-year warranty, and very reasonable price, I would like to say this machine is the best rotary pen tattoo machine.
Mast Archer Wireless Rotary Tattoo Machine
This one of the best wireless tattoo machine kits is designed by Dragonhawk to allow tattoo artists unparalleled freedom of movement, eliminating the hassle of tangled cords and ensuring a smoother tattooing experience.
With a full charge time of just 2 hours, the machine can run for an impressive 8 hours. This is especially beneficial for artists who have long sessions or multiple appointments in a day. Unfortunately, The Mast Archer does not have a replaceable battery, which means you can't work while it's charging.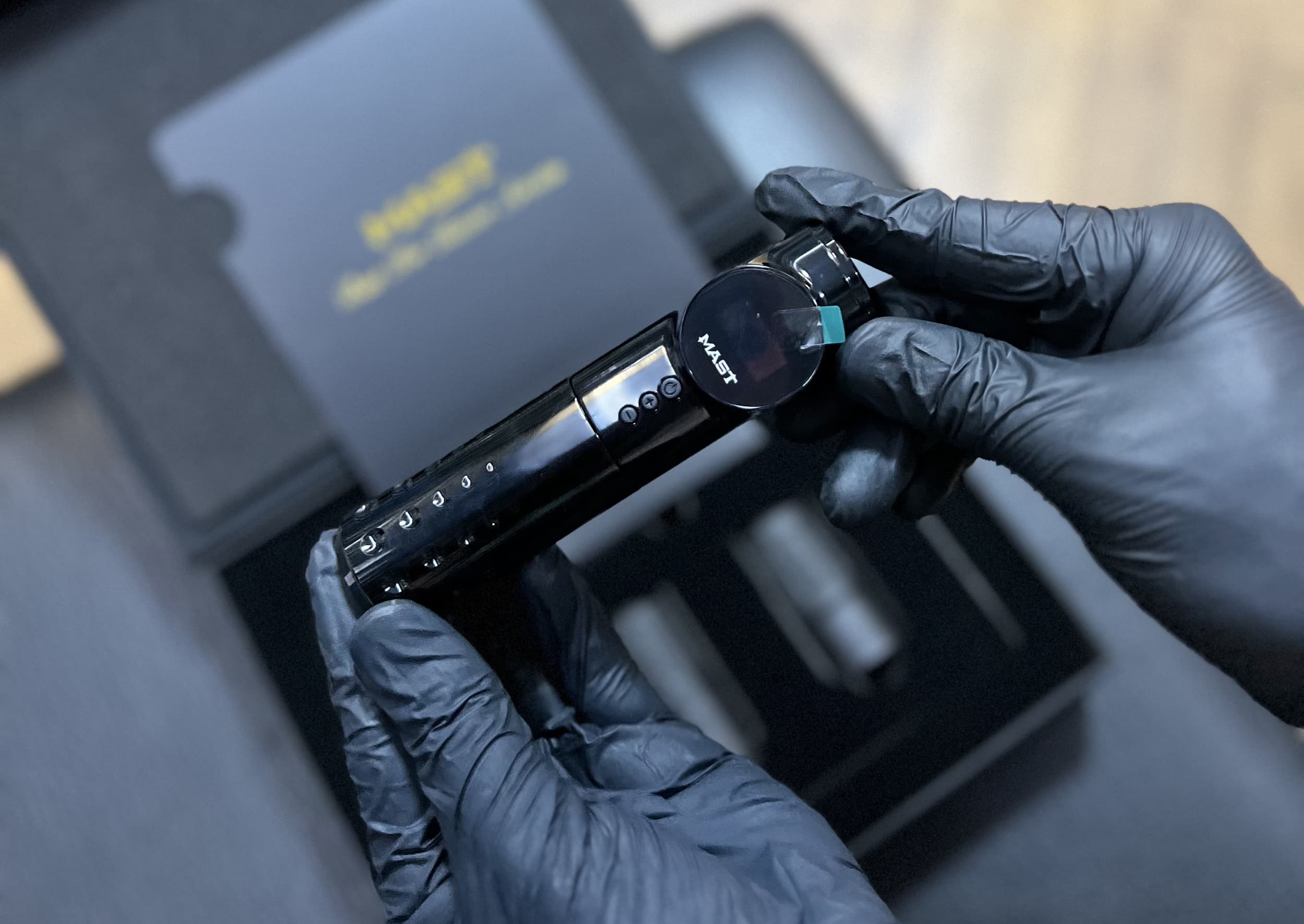 Pros:
It is an easy-to-handle shape of a pen casing, making it beginner-friendly
Has a digital LCD voltage screen and easily adjustable voltage
Offers more power than the average beginner tattoo machine
Has a direct drive transmission, which increases the resilience of the machine
Stylish design, cool packaging, nice display, different colors available
Affordable price considering it is a wireless
Cons:
Does not have a replaceable battery
May not be as versatile as other machines, which allows you to change the stroke and how hard it hits
The stroke length cannot be changed
The Mast tattoo gun has the standard 3.5mm stroke length ensures that the machine can function both as a liner and a shader, making it a versatile tool for beginners and professional artists.
One of the most commendable features is its digital LCD voltage screen. This, combined with its easily adjustable voltage, makes it particularly beginner-friendly. The screen not only displays the voltage but also shows the remaining power, working time, and working voltage, ensuring the artist is always in the know. The voltage range of the Mast Archer is 5V – 12V. Changing and replacing cartridges is a breeze, which is a significant advantage in a busy tattoo studio.
It's also quite light despite being a wireless design, only 186 grams. The holder is 32mm in diameter, but keep in mind that you will need to wrap more protection around it, so the diameter will increase. So the machine may be a little heavier and louder comparing others in this review.
The advanced gear system of the Mast Archer promises a smooth, soft, and notably quiet operation. This is not only pleasant for the artist but also for the client. Additionally, its direct drive transmission increases the machine's resilience. However, it's worth noting that this requires artists to be more precise with needle depth.
Package Inclusions: The package is comprehensive, coming with a wireless machine, a USB-C fast charge cord, two replaceable grips, and a beautifully designed gift box (see photos). This makes it a great purchase or a gift for budding or professional artists.
FK Irons Spectra Xion
FK Irons is a well-respected brand in the tattooing industry, known for its high-quality machines and innovative designs. The Spectra Xion is a testament to this reputation, offering professional-grade performance and design. The FK Irons Spectra Xion is a pen-style tattoo machine that has been designed with the artist's creative vision in mind.
Offering full control over various parameters, it's a tool that combines versatility, precision, and innovation. Let's delve deeper into the specifics of what makes the Spectra Xion a standout choice.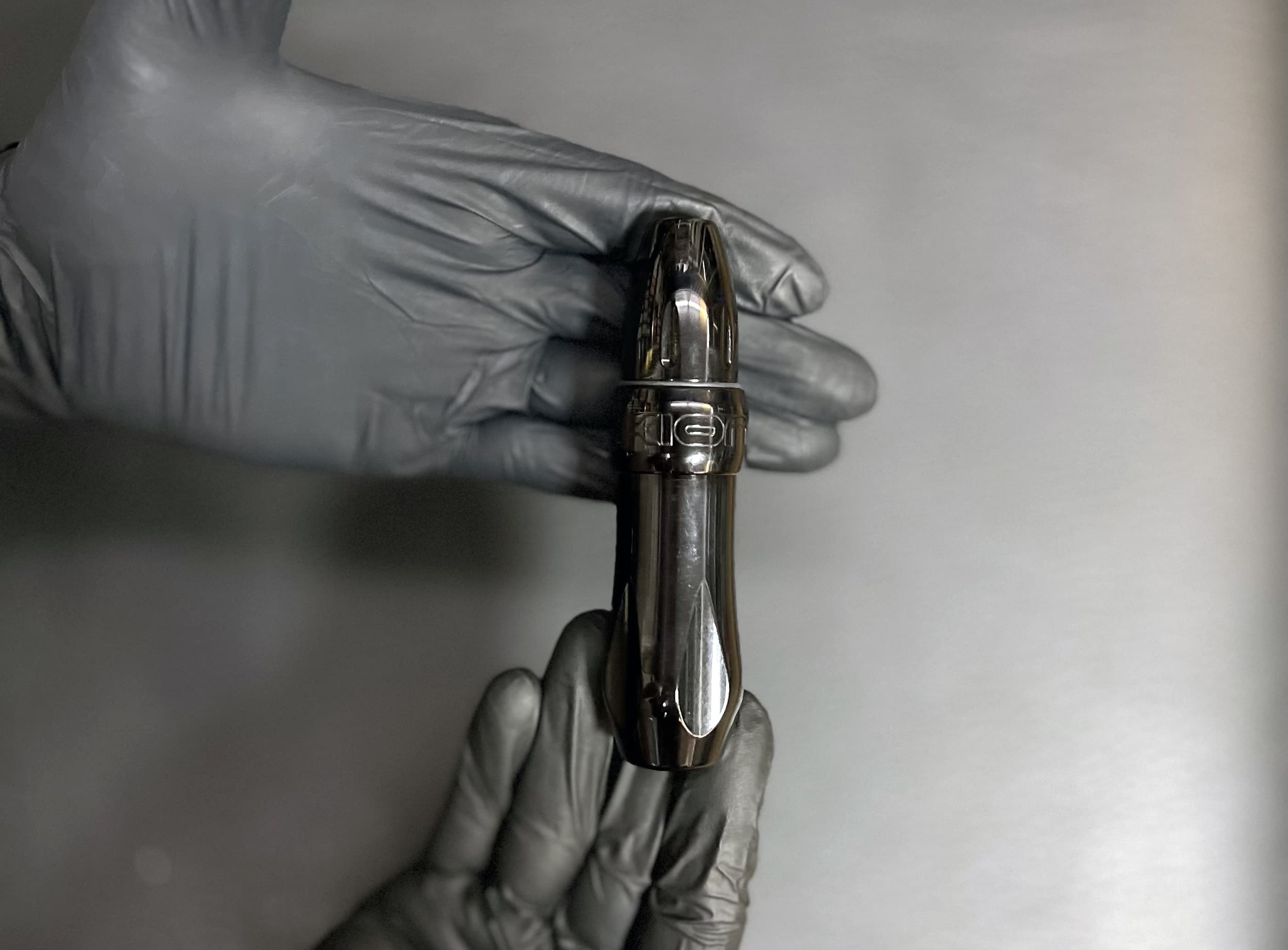 Pros:
Maximum torque, consistent power, and durability of the tattoo machine's motor
Robust yet lightweight design
It is compatible with most power supplies and can be used with both traditional and wireless options
Extra long needle depth adjustment and very convenient to adjust it
Adjustable stroke up to 3.7 mm
Comes with 1-year manufacturer warranty
Fully autoclaved grip
Cons:
It is considered a high-end tattoo machine, so it is more expensive compared to other options on the market.
The FK Irons Spectra Xion comes fitted with a robust 6W MotorBolt system, specifically tailored to cater to the unique demands of tattoo artistry. That's why the MotorBolt system in the FK Irons Spectra Xion ensures a steady and reliable power supply, enabling tattoo artists to execute their craft with unmatched precision and control. It's engineered to provide the essential power and performance needed for quality tattooing, guaranteeing a smooth and effective operation.
This motor, a product of FK Irons' engineering prowess, is manufactured in the USA. The MotorBolt system is designed to be compatible with a broad range of power supplies currently available in the market. But the MotorBolt system is just one of the many features of the FK Irons Spektra Xion. The machine gives additional features such as adjustable stroke length, ergonomic design, and easy maintenance, which contribute to its overall performance and popularity among tattoo artists.
The Spectra Xion boasts a robust yet lightweight design, ensuring durability and ease of use. Its ergonomic body fits comfortably in the hand, reducing fatigue during long tattooing sessions. The machine also features an adjustable grip, allowing artists to change the needle depth on the fly.
The Spectra Xion is designed to offer a high level of control and precision, making it suitable for a wide range of tattooing techniques. It features interchangeable stroke wheels (3.2mm and 3.7mm) to suit different tattoo styles, allowing artists to easily adjust the machine's operation to align with their specific style and techniques of lining and shading.
Furthermore, the machine allows for adjustable needle depth by turning the grip (0 to 4.5 mm. – Extra Long), giving artists more control and comfort while working. Despite its powerful performance, the Spectra Xion operates with minimal noise and vibration. Also, by using this pen-style machine, tattoo artists can ensure they are providing the safest service to their clients due to a fully autoclaved grip.
Peak – Tanza
The Peak Tanza Pen Rotary Tattoo Machine, complete with an Axi grip set is a perfect blend of power, precision, and comfort while staying budget-friendly and that is why I want to consider this device as the best rotary tattoo machine for beginners. It's not as popular as its competitors in this review, but it definitely deserves your attention. So this review will explore the key features of the Peak Tanza, emphasizing its unique strengths and its position in the competitive tattoo machine market.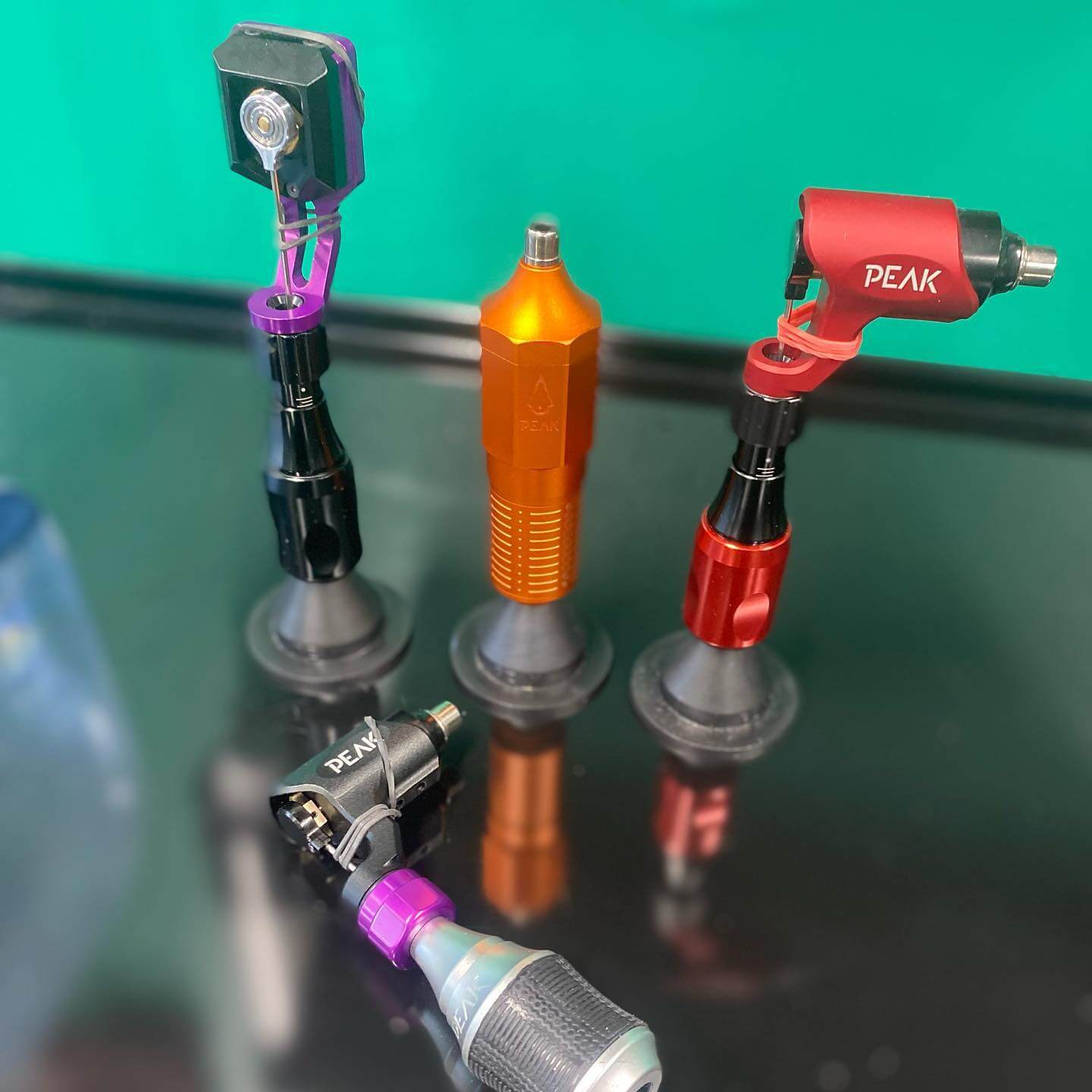 Pros:
Combines easy maneuverability, durable construction, convenient balance, and ergonomics
It is configured for a medium stroke length of 3.5mm, so it is suitable for most tattoo styles
The tattoo kit is equipped with a plunger bar, drive bar nubs, rubber bands, and a hex key for adjustments
While the Axi Grip adjusts the needle depth from 0mm up to 4.5mm with a simple turn
Inside the machine is a quality and reliable Japanese motor
Medium price segment.
Cons:
Works with cartridge needles only
The stroke length cannot be changed.
One of the standout features of the Peak Tanza is its 3.5W Japanese 12VDC motor. This high-quality motor ensures consistent performance and reliability, even during long tattooing sessions. The machine's power and efficiency are impressive, and it runs smoothly without overheating or causing discomfort to the artist or client. The machine operates between 4VDC and 12VDC, providing a wide range of power options to suit different tattooing needs. This flexibility in voltage ensures that the machine can handle intricate designs with precision, as well as bolder, larger pieces that require more power.
The Peak Tanza machine operates with a 3.5mm stroke length, which is an optimal range for both lining and shading. This versatility allows artists to switch between different techniques seamlessly, making it a great all-around machine for any tattooing style.
The Axi grip, which comes with the machine, is another noteworthy feature. It allows for the adjustment of needle depth, giving artists more control over their work. This feature is particularly beneficial for artists who work with a variety of styles and techniques, as it allows for precise control over the depth of the tattoo ink in the skin. Also, the Axi grip has a diameter of approximately 1 inch (25mm) and is made of aluminum. This size is comfortable for most hands, and the aluminum construction ensures it's both lightweight and durable. The grip is easy to hold and control, which contributes to the overall precision and comfort of the machine. And the Axi-grip is autoclaved.
The Peak Tanza is equipped with a plunger bar, drive bar nubs, rubber bands, and a hex key for adjustments. These additional components make it easy to customize the machine to the artist's preferences, ensuring optimal performance and comfort during use.
The machine's lightweight aluminum design is another major plus. It's easy to handle and maneuver, reducing the strain on the artist's hand during long sessions. This lightweight design doesn't compromise on durability, though, as the aluminum construction is robust and built to last.
Cheyenne Thunder
The Cheyenne Thunder is a powerful rotary tattoo machine that has been a game-changer in the tattooing world. Known for its robust performance and adaptability, it's a machine that can handle a wide range of tattooing techniques6 but considering the best for lining and color packing.
The Thunder is aptly named, boasting a powerful motor that doesn't compromise on precision. It's designed to handle lining and coloring with equal proficiency, making it a truly versatile tool in a professional tattoo artist's arsenal.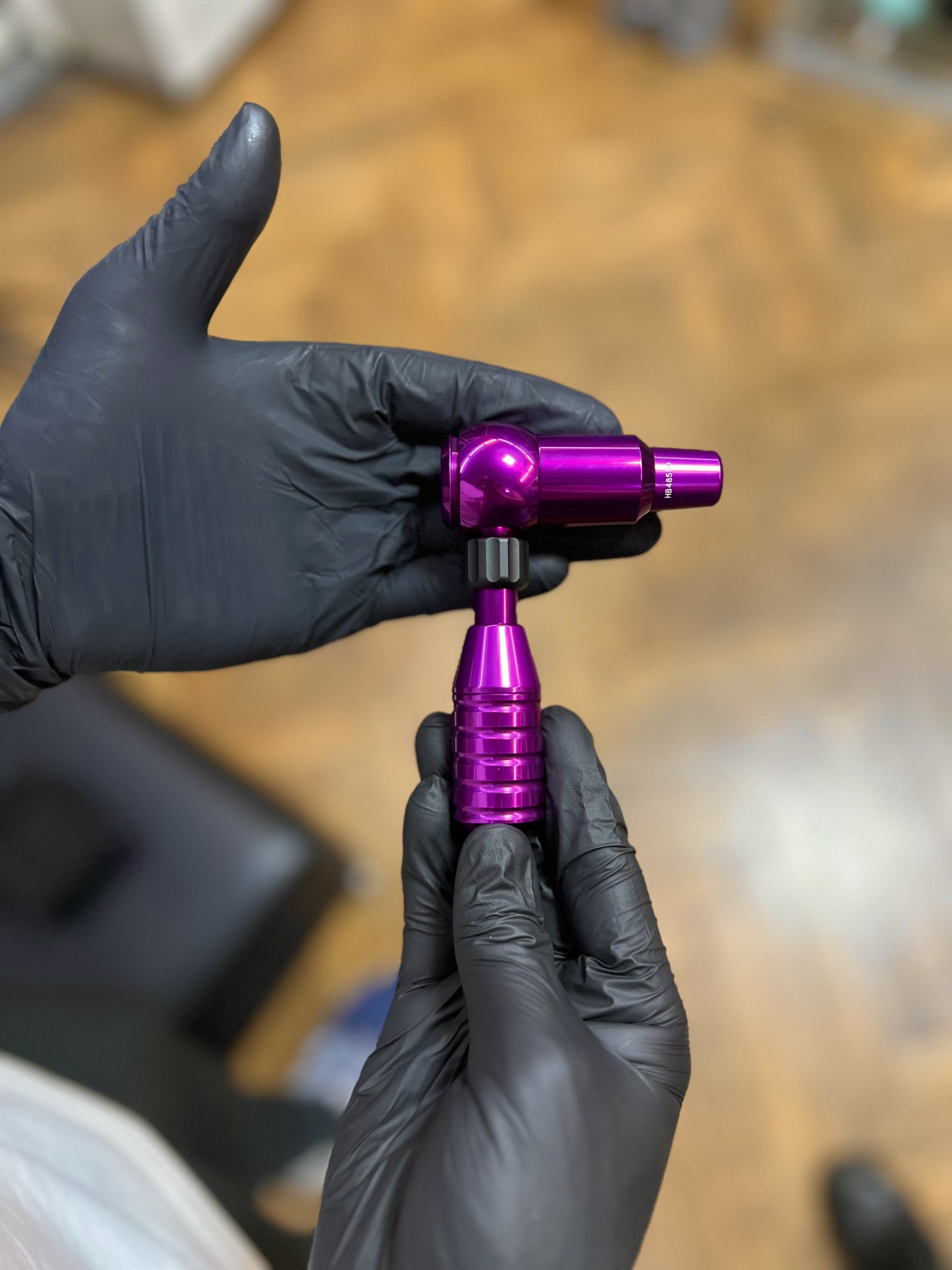 Pros:
Combines easy maneuverability, durable construction, convenient balance, and ergonomics
It is configured for a medium stroke length of 3.5mm, so it is suitable for most tattoo styles
The tattoo kit is equipped with a plunger bar, drive bar nubs, rubber bands, and a hex key for adjustments
While the Axi Grip adjusts the needle depth from 0mm up to 4.5mm with a simple turn
Inside the machine is a quality and reliable Japanese motor
Medium price segment.
Cons:
Works with cartridge needles only
The stroke length cannot be changed.
Its design is reminiscent of its predecessor, the Spirit, maintaining a familiar aesthetic. So the Thunder's build quality is top-notch, reflecting Cheyenne's commitment to durability and reliability. Its ergonomic design ensures comfort during long tattooing sessions, and its balanced weight distribution enhances control and precision (see photo). Here, let me remind you that the Cheyenne grip is available in both 21 mm and 25 mm diameters. This allows you to find the ideal weighting and diameter for your palm.
The Thunder tattoo machine is powered by a precision DC motor and features a 3.5 mm jack plug connection at its end. Despite its power, the machine operates quietly and with minimal vibration, ensuring a comfortable and effortless user experience. It's compatible with all standard cartridges from major brands.
The device is offered in a choice of five distinct colors, allowing artists to select a machine that matches their personal style.
Key Features:
Higher Puncture Force and Frequency: It offers a higher puncture force and frequency compared to other tattoo machines, resulting in precise strokes with highly sensitive reaction times.

Flexible and Lightweight Design: The excellent workmanship of the Hawk Thunder guarantees safe, clean, and gentle work. It is designed for comfort, with a flexible and lightweight construction.

Perfect for Lines: The machine is optimized for creating lines, with a new drive and rotational speed and an optimized eccentric tappet. It has a frequency range of 70 – 170 strokes/second and 0-4mm depth, making it perfect for precise and delicate work.

Suitable for All Skin Types and Areas: The Cheyenne Hawk Thunder is easy to adjust and ergonomic, making it suitable for all types of work and all skin types and areas.
While the Cheyenne Thunder falls into the higher-end price range (which is an obvious disadvantage), its robust performance, versatility, and durability offer excellent value for the investment, making it a worthwhile choice for serious artists.
Cheyenne Spirit
The classic Hawk Spirit is a favorite of many professional tattoo artists and even after a long time is still as good as most of its competitors in the tattoo equipment market. It is because the device combines power and precision with comfort and style. Known for its robust yet lightweight design, it's a tool that offers both performance and ease of use.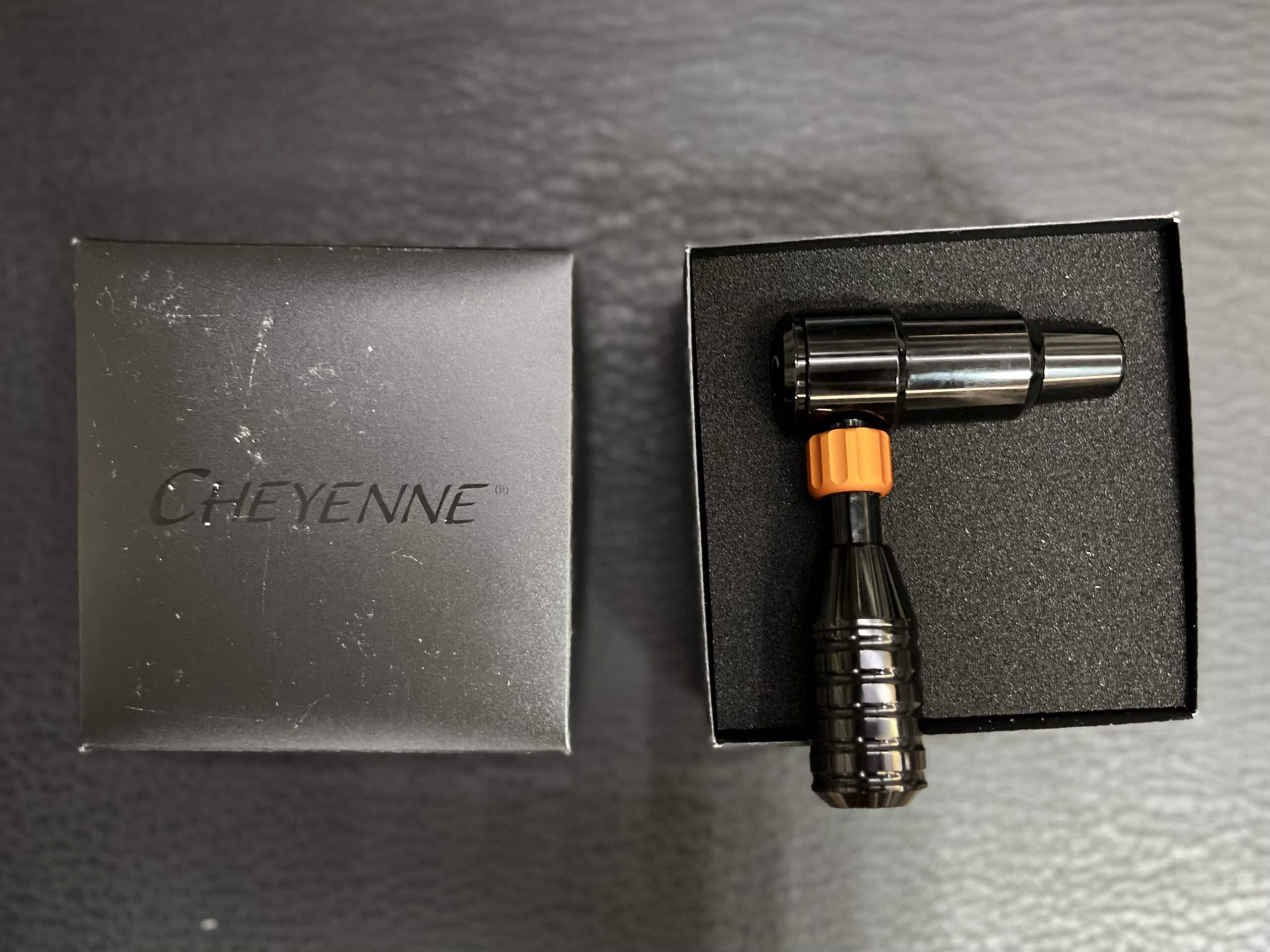 The Hawk Spirit is equipped with a 2.5 mm stroke, making it particularly adept at shading. This stroke length allows for precise and controlled application of ink, ensuring optimal results across different tattooing techniques.
Adjustable Needle Depth: One standout feature of the Hawk Spirit is its adjustable needle depth. This allows artists to customize the depth of needle penetration, catering to different skin types and tattooing techniques for the best possible results.
Despite its lightweight design (it weighs approximately 90 grams), the Hawk Spirit is robust and durable, capable of withstanding the demands of regular use. Its comfortable and intuitive operation allows tattoo artists to focus on their craft without distractions or discomfort. The Hawk Spirit is designed to operate with minimal noise and vibration. This not only creates a more comfortable experience for the tattoo artist but also makes the tattooing process less intimidating for clients.
Adding a touch of personal style, the Hawk Spirit is available in various colors, including black, red, silver, and orange.
Our verdict: when you choose Spirit for procrastination and shading, you're choosing time-tested reliability. It's not as expensive as Cheyenne's other products, but it provides renowned German reliability and consistent performance.
Cheyenne Hawk Spirit vs Thunder:
| Features | Cheyenne Hawk Spirit | Cheyenne Hawk Thunder |
| --- | --- | --- |
| Weight | Approximately 90 grams | Approximately 95 grams |
| Stroke Length | 2.5mm | Around 4mm |
| Dimensions (L X W X D): | 110 x 75 x 28 mm | 110 x 75 x 28 mm |
| Ideal For | Soft shading and filling in tattoos | Excellent for lining and color packing |
| Adjustable Needle Depth | Yes | Yes |
| Noise and Vibration | Low | Low |
| Special Design Feature | Not specified | Designed for heavy lining power |
Why choose rotary tattoo machines?
Here are some advantages of rotary tattoo machines over coil tattoo machines:
Consistent Performance: Rotary tattoo guns have consistent movements that are exceptionally good for laying out lines and shading. They require substantially less knowledge and finesse to be used effectively.
Less Damage to Skin: Rotary machines are usually less damaging to the skin than coil machines. They have a smoother and quieter operation, which can be less intimidating for clients. So they can be less painful for the client.
Lightweight and Portable: Rotary tattoo machines are very lightweight and portable, making them easier to handle and transport than coil machines.
Smoother running and quieter than coils.
Tattoo cartridges can be used.
How to choose a rotary tattoo machine?
Stroke Length
A fundamental and very important concept when choosing a rotary tattoo machine is stroke length. This is the distance between the two dead points – the upper and lower – of the eccentric position. Or to put it another way, it is the distance by which the tattoo needle will accelerate between its two points: start and end. The greater this distance, the more potential energy the needle will store, and the more of this energy will be released when it comes into contact with the skin.
A stroke length of 2.5 mm is a very short length that is suitable for permanent makeup.  If the tattoo pen has a 3.5mm stroke it is the basic, universal, and most popular length. The tattoo machine for lining has a 4.0 mm stroke. Tattoo guns with a stroke above 4.5mm are a very rare device for a very limited type of tattoo technique. So, how do you know which stroke length is right for you?
3.5 mm is suitable for you if you:
ink in gradients with large layering;
do whip shading;
have a lot of thin stripes in your tattoos;
have a small amount of dense color;
do black and grey or color tattoos, but you apply it delicately and in a few layers;
your style isn't a "hard" style with large areas of inks and huge needles;
you're a beginner.
That is, it is the most universal stroke, and it suits most beginners, you can start from it, but later on, you can either stay with it or go further, to 4.2 mm.
4.2 mm is suitable for you if you are a more experienced tattoo artist. This is a more professional choice, you need good control of the machine and needle and a professional understanding of what you are doing. If you have dense runs at one time, large color areas, and thick contours, then a 4.2 mm stroke is for you. You'll get control over the inking with your skill.
The 5mm and 6mm strokes are suitable for large Blackwork style pieces to cover large areas of skin in rich black with large needle bundles.
Having this information will make it easier for you to match your tattoo machine to your tattoo technique.
The motor is the heart of any rotor
There are different types of rotary motors: Direct-Drive, Armature Bar Guided, Linear Action, and Swashdrive. The tattoo machines in this list have a direct-drive motor. But the most important thing that you should know about a tattoo machine motor is whether the manufacturer gives a warranty on it. If the manufacturer's warranty is valid for 1 year, most likely the manufacturer is confident in the quality of their design and the motor as a whole.
Wireless tattooing
Note that since these are recommendations from 2023, it is certainly recommended to consider a wireless tattoo machine even if you are a complete beginner. This is a total trend that aims not only for comfort and convenience when tattooing, but often also for the economic factor. After all, for a wired machine, you also need to pick up good wires, a good power supply, and a good pedal, while with a wireless machine, you just pick up a set of quality wireless rotary machines and batteries.
Other features
Then pay attention to the other factors: noise level, ergonomics, weight, voltages, usability, compatibility with other brand components, etc.
Conclusion
These selections reflect a mix of different price points, features, and brand reputations. They include options for both seasoned professionals and those new to tattooing, ensuring a broad appeal. The list is based on industry recognition, user reviews, and the features that these machines offer, making them stand out in the market. Always consult with current industry experts or research the latest reviews to ensure that the information is up-to-date, as new models and innovations continually emerge in the tattooing industry.