The Best Pen Tattoo Machines in 2023: from Pros to Beginners
Given the innovations of recent years and novelties in the tattoo industry and with 2023 coming to an end, I've been on the lookout again for the top tattoo pen machines that can truly elevate our art. Think of it like finding the perfect pen for your diary, but this time, it's for the skin.
Whether you've been inking for years or are just curious about the process, I've done a guide that's simple yet comprehensive. This piece is my extensive experience of tattooing with all kinds of different tattoo pens. So the reviews of the best tattoo pen machines in this list are amazing anyway.
What are the criteria for the best tattoo gun?
As with all rotary tattoo machines, the criteria for choosing the best pen comes down to three main ones, and the first one is the stroke length and its adjustability. Having the ability to customize your tool for different types of tattoo techniques will give you a wider range of tools with just one versatile tattoo machine. This is especially true for beginners who often can't buy several different machines.
The second criterion is the motor. Its quality, durability, and smooth operation.
Next, I rate the combination of factors such as wired/wireless tattoo machine, ergonomics, and weight, ease of use. All these factors are important in relation to the price, you should not overpay if it is not worth it.
However, unlike conventional rotary machines, pen tattoo guns have one big thing: the complexity of processing and sterilization. Pen machines that can be disassembled and sterilized are worthy of special consideration and attention.
CNC Q2 Short Pen Machine
Enter the CNC Q2 one of the best tattoo rotary pen and a harmonious blend of reasonable pricing and top-tier tattoo functionality. Seamlessly marrying cost-effectiveness with stellar performance, it stands as a testament that quality doesn't always come with an exorbitant price tag.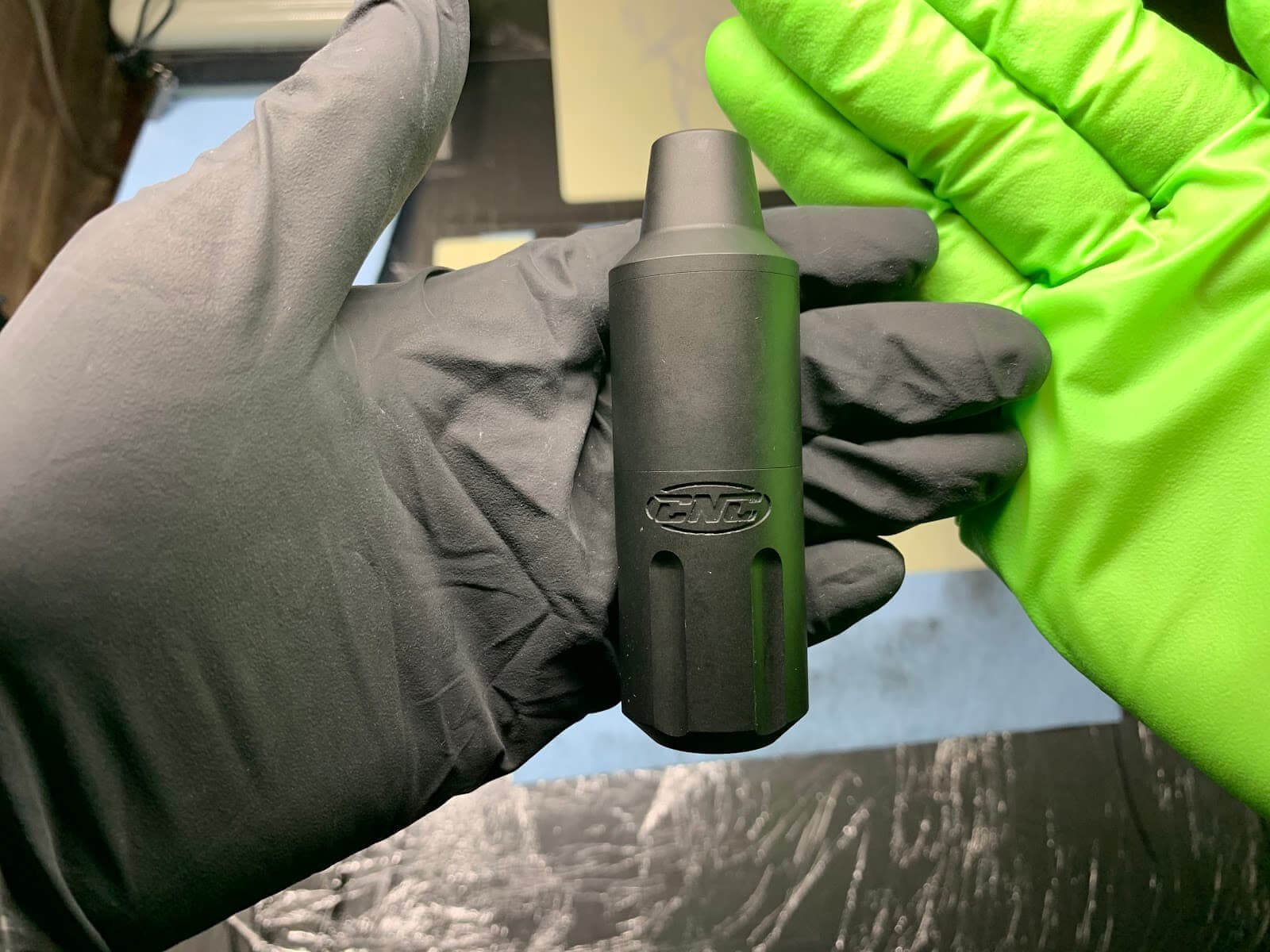 Pros:
The German Faulhaber Flat Motor that's reliable, and designed to enhance the artistry
The balance between power and noise
You may adjust stroke length from 3.00 to 4.00 mm
Comes with a 1-year warranty from the manufacturer
Excellent value quote
The manufacturer's website often offers substantial discounts
Short and lightweight tattoo pen
You can also buy a tattoo kit with CNC Q2
The machine offer precision
Cons:
To be able to adjust the stroke length, you need to buy additional eccentrics ($25 each)
If you order from the manufacturer's website and the item is out of stock in the US warehouse, shipping will be about 7 days.
At the heart of the Q2 lies the German Faulhaber flat motor. This motor is renowned for its meticulous precision. For a tattoo artist, this means every line, shade, and detail is rendered with an accuracy that's hard to find in other budget-friendly machines. The motor ensures that the needle moves consistently, eliminating the risk of sporadic jitters or uneven strokes.
The motor's design is not just about performance; it's also about efficiency. It ensures that the machine operates optimally without consuming excessive power. This translates to longer tattooing sessions without the constant need to recharge or worry about overheating. The Faulhaber motor's design minimizes noise, ensuring that the soothing hum of the machine doesn't escalate into a disruptive buzz.
Also, it's crafted to withstand the test of time, ensuring that artists have a machine that remains reliable in the long run. In support of this, the CNC Q2 tattoo machine comes with a 1-year warranty. This means that if any issues arise with the machine within the first year of purchase, CNC Tattoo Supply will provide warranty service to address and resolve the problem.
The CNC Q2 feels almost like a pencil in hand, offering unparalleled comfort and maneuverability. The Q2's compatibility with a wide range of tattoo cartridges and power supplies is a testament to its versatility. Artists can seamlessly integrate it into their existing setups, eliminating the need for constant equipment changes.
Durability is a must in the tattooing world, and the Q2's aircraft-grade billet aluminum construction ensures it can withstand the rigors of daily use. It's still not a Cheyenne-level build, but it's a very high-quality build that will stand up to a lot.
Customization is key in tattooing, and the Q2's adjustable stroke length, ranging from 3.00 to 4.00 mm, allows artists to tailor their technique to each unique piece. Whether it's fine lines or deep shading, Q2 has got it covered. But note that additional eccentrics you will need to purchase; the default stroke length is 3.5mm. You can also get wireless power supplies and plug into this machine, thus getting a wireless tattoo pen machine.
Verdict: Considering all of the features, like adjustable stroke, lightweight, short construction, powerful motor, 1-year warranty, and very reasonable price, I would like to say this machine is the best pen tattoo machine.
Cheyenne HAWK PEN SOL NOVA UNLIMITED
The Cheyenne SOL Nova Unlimited machine is also an incredible tool for professional tattoo artists and for good reason. It has been on the market for a couple of years now, but it is still top-of-the-line in its product segment. It is innovative, reliable, and extremely user-friendly.
So why it is so popular among tattoo artists and different tattoo styles? This is because such a small pen, a buzzer, without wires and other burdensome details, is able to give excellent quality, including in large-scale and complex tattoo projects.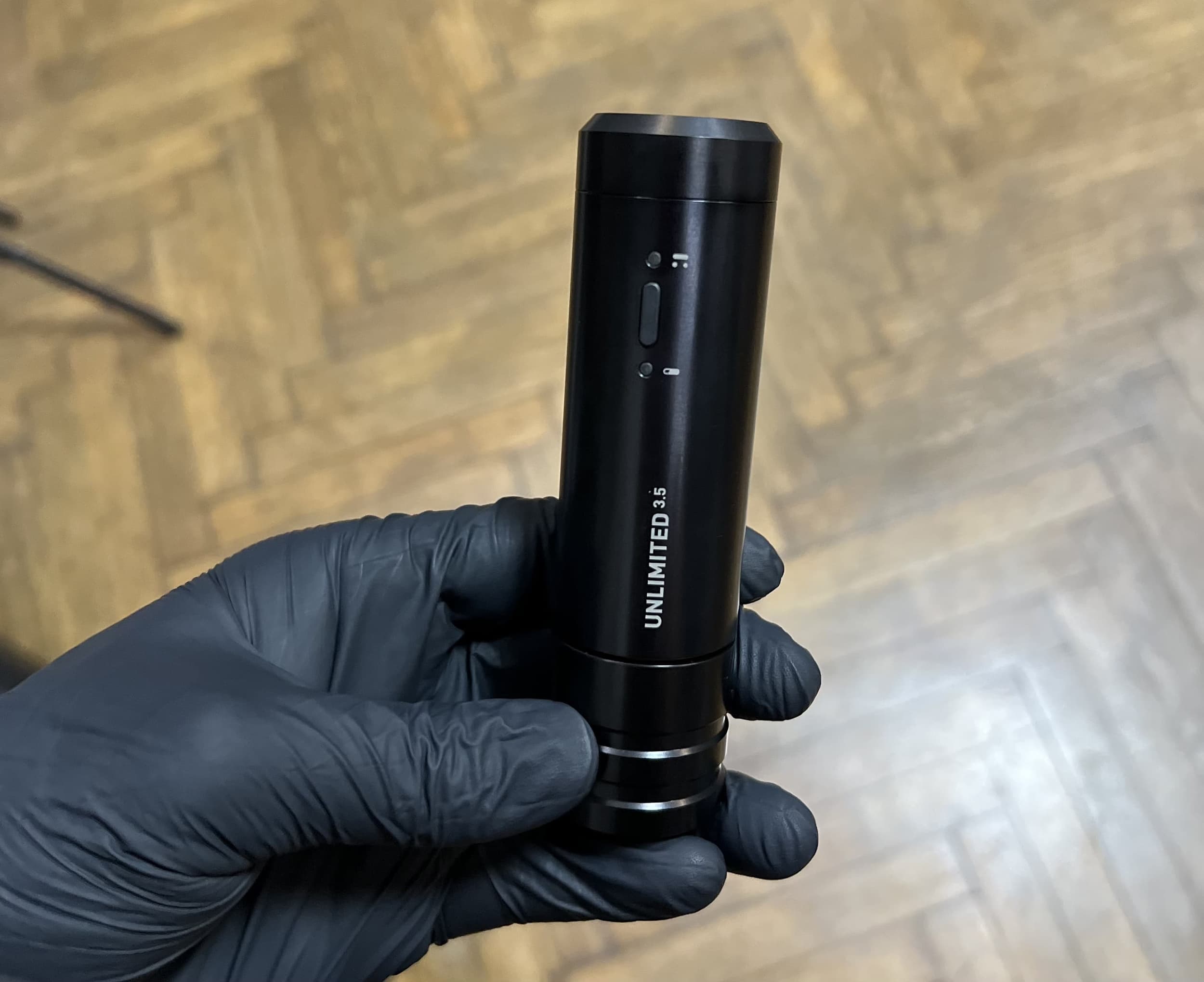 Pros:
Quality assembled construction and parts
Two different modes of operation, one of which adjusts to the skin
Innovative and convenient voltage adjustment
Batteries can be purchased easily
Nice packed product
Battery voltage does not drop when the battery level drops, it delivers the right amount of power
Holds battery long, charges quickly
Cons:
High cost
Not for the old school tattoo style
I love that this machine's intuitive controls and built-in tilt sensors make it easy to start and control the machine with just one button, while also allowing me to adjust the voltage by tilting the machine in the desired direction.
It has two operating modes, Steady Mode and Responsive Mode, which allow me to choose the frequency and power settings that best suit my needs. The machine's infinitely adjustable needle exit and wide motor range provide further flexibility and precision in my work. So, I love that the Sol Nova Unlimited is versatile and suitable for contouring, tinting, and shading.
The box and packaging is one of the most thoughtful and enjoyable to unpack of all the tattoo machines on the market. The tube, case, tattoo machine itself, batteries, charging wire (micro USB), charging block, and instructions – that's the whole kit of the device. Very complete and clear instructions for use.
Also, the tattoo machine comes with two batteries, ensuring that I can use it continuously without any downtime. I appreciate that the battery only takes three hours to fully charge, making it a quick and convenient process. What sets it apart from other tattoo machines on the market is that Unlimited uses batteries that are used in other household items. That is, if you lose your battery, you can buy a new one without any hassle. Also an important detail about batteries: when the battery goes dead, that is, it shows yellow or orange, the machine does not reset the voltages and therefore continues to work as it should.
Cheyenne did a great job at designing this pen: its build quality is excellent and you can't really be bothered with any of the parts. It is convenient for both right- and left-handed people. The machine's quiet and silent operation is also a plus, as it helps me focus on my work without any distractions.
The device works easily on any skin and on any area. On bends and delicate areas of skin, the Adaptive Work Mode comes in handy. I like the fact that you can lower the volts quite low. Also based on the feedback from many tattoo artists who have used this device a lot in their work with clients, many have noted that clients "heal" better and faster.
Changing the voltages is done by changing the angle of the pen while the button is pressed. The maximum vertical position with the grip up is the highest voltage, and the grip down is the minimum voltage. The adjustment works at 360 degrees. The voltages are changed in steps and thanks to the manual, you will know at which tilt of the knob voltages will be set.
I also enjoy how this tattoo machine switches the stroke from 2.5 all the way up to 4.0: it takes a little effort to click it but I kind of like that. Also, the manufacturer offers a line of these products with different stroke lengths so you can choose the type of machine with a 2.5mm stroke, 3.5mm, and 4.00mm by default.
The nuances – this machine is not so good at tattooing thick and dense contours, although the thin contour made by this machine looks great, even, thin, without interruptions – that's what you need. When covering the tattoo machine showed itself perfectly, as in principle, and all other tattoo machines from Cheyenne. It paints as a marker, there is no question about the quality of the penetration. So for the realist tattooists, this will probably be the perfect tattoo machine. And overall, SOL Nova Unlimited seems like an excellent investment for professional tattoo artists. Its high-quality construction, innovative features, and versatility make it a valuable addition to any artist's tool kit.
Mast Archer Wireless Rotary Tattoo Machine
This one of the best wireless tattoo machines is designed to allow tattoo artists unparalleled freedom of movement, eliminating the hassle of tangled cords and ensuring a smoother tattooing experience. With a full charge time of just 2 hours, the machine can run for an impressive 8 hours. This is especially beneficial for artists who have long sessions or multiple appointments in a day. But unfortunately, The Mast Archer does not have a replaceable battery, which means you can't work while it's charging.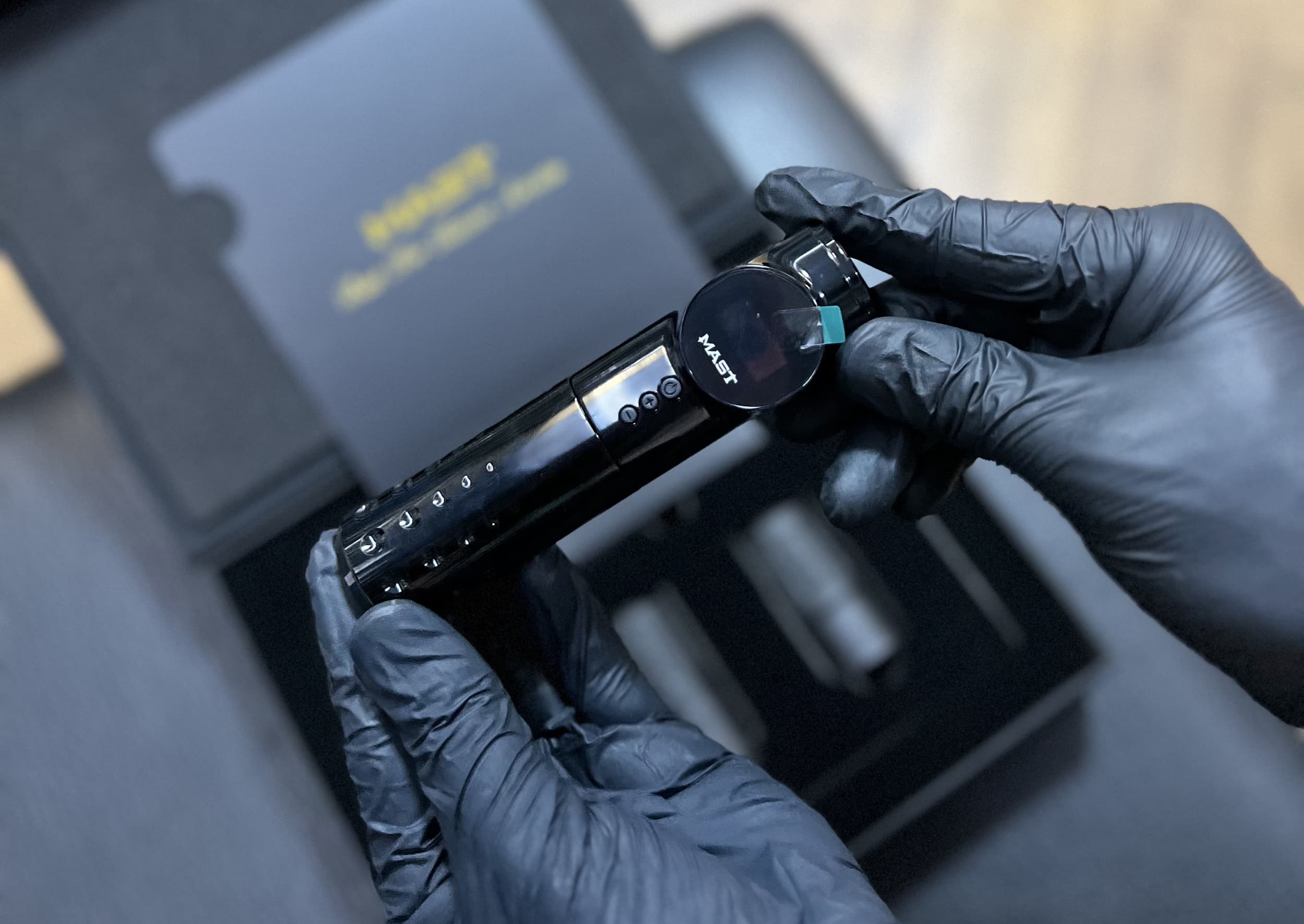 Pros:
It is an easy-to-handle shape of a pen casing, making it beginner-friendly
Has a digital LCD voltage screen and easily adjustable voltage
Offers more power than the average beginner tattoo machine
Has a direct drive transmission, which increases the resilience of the machine
Stylish design, cool packaging, nice display, different colors available
ffordable price considering it is a wireless.
Cons:
Does not have a replaceable battery
May not be as versatile as other tattoo machines, which allows you to change the stroke and how hard it hits
The stroke length cannot be changed
The Mast tattoo gun has the standard 3.5mm stroke length ensures that the machine can function both as a liner and a shader, making it a versatile tool for beginners and professional artists.
One of the most commendable features is its digital LCD voltage screen. This, combined with its easily adjustable voltage, makes it particularly beginner-friendly. The screen not only displays the voltage but also shows the remaining power, working time, and working voltage, ensuring the artist is always in the know. The voltage range of the Mast pen rotary tattoo machine is 5V – 12V. Changing and replacing cartridges is a breeze, which is a significant advantage in a busy tattoo studio.
It's also quite light despite being a wireless design, only 186 grams. The holder is 32mm in diameter, but keep in mind that you will need to wrap more protection around it, so the diameter will increase. So the machine may be a little heavier and louder comparing others in this review.
The advanced gear system of the Mast Archer promises a smooth, soft, and notably quiet operation. This is not only pleasant for the artist but also for the client. Additionally, its direct drive transmission increases the machine's resilience. However, it's worth noting that this requires artists to be more precise with needle depth.
Package Inclusions: The package is comprehensive, coming with a wireless machine, a USB-C fast charge cord, two replaceable grips, and a beautifully designed gift box (see photos). This makes it a great purchase or a gift for budding or professional artists.
Equaliser Neutron by Kwadron
The Equaliser Neutron is a new and popular tattoo pen machine. As a professional tattoo artist, I was eager to test out this device and see if it lived up to the hype. After using the Neutron pen on several clients over the past few weeks, I can confidently say that this machine delivers on its promises.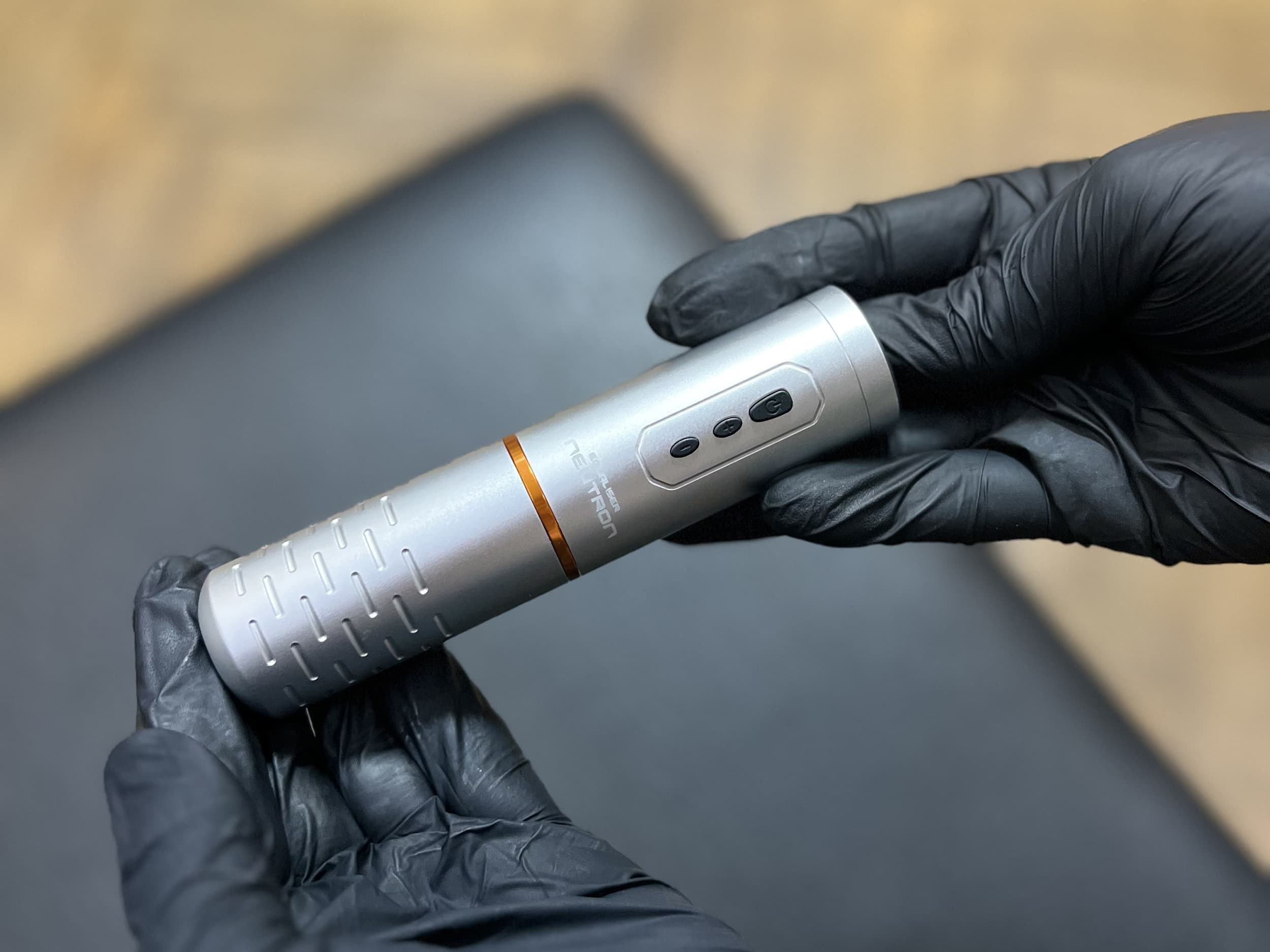 Enclosed in a sleek aluminum housing, the Neutron has an ergonomic pen-like shape that fits comfortably in your hand during long tattoo sessions. It features a small digital display and intuitive buttons that allow easy control of the machine on the fly.
I was blown away by how effortlessly the Neutron pen deposited ink into the skin. The depth and saturation of the tattoos I produced with it were on par with, if not better than, a lot of coil tattoo machines. The pen is lightweight and ergonomic, allowing me to tattoo for hours without hand fatigue. It also runs cool, so no more dealing with machines overheating in the middle of a session.
At the heart of the Neutron is a powerful 4.5W motor that delivers smooth, consistent line work thanks to its 3.5mm stroke and direct drive system. There's no bothersome rattling or shaking that you sometimes get with coil machines.
Changing tips between colors is a breeze – just pop one tip out and pop the next one in. The pen has quickly become my go-to choice for intricate fine-line tattoos and single needlework. The precision I can achieve with electromagnetic technology is unparalleled.
One of the biggest advantages of the Neutron is its cordless functionality. It operates wirelessly for up to 8 hours on a single charge, allowing for incredible flexibility and mobility. Artists can move around clients and tattoo in any position without worrying about cords getting in the way. And when it does come time to charge, a full battery takes only 2 hours.
The Neutron comes with three grip options – 32mm aluminum, 32mm silicone, and 35mm silicone. I appreciated having sizes to choose from depending on the tattoo location and my desired hand position. The grips have a non-slip coating for added control.
Overall, the Neutron allows me to create incredibly precise, clean tattoos faster than ever before. The cutting-edge electromagnetic technology provides unparalleled line quality and shading abilities. I would recommend the Neutron to any artist looking to step up their tattoo game.
Pros:
The wireless design allows for greater freedom of movement during tattooing sessions.
The aluminum body and removable grip make the machine durable and easy to handle.
The shape of the grip has been changed, which allows the machine to lie more firmly in the hand.
Three easily accessible buttons on the machine allow for quick and easy adjustments.
Cons:
The machine may be more expensive than other tattoo pen machines on the market
How to Choose the Best Tattoo Machine Pen?
Any professional tattoo artist will tell you that the best results cannot be achieved without a good tool. So how to choose and buy tattoo machines that will not turn out to be chinese fake or poorly assembled? Without spending all your money. Let us take a look at this tattoo machine buying guide.
Motor
When choosing a tattoo pen machine in 2023, one of the most crucial components to consider is the motor. The motor determines the machine's performance, consistency, and overall reliability. Here's a guide to help you make an informed decision based on motor features.
The power of the motor determines how efficiently the machine can drive the needle. A powerful motor ensures:
Consistent ink flow.
Ability to work for extended tattoo sessions without overheating.
Better handling of larger tattoo needle groupings.
For most tattoo pen machines, a motor that operates between 6V to 12V is ideal. However, always refer to the manufacturer's recommendations.
RPM indicates the speed of the motor. A higher RPM means the motor is faster. For lining, a machine with higher RPMs (around 8,000 RPMs) is preferable. For shading or coloring, a machine with around 6,000 RPMs is often adequate.[source]
Torque is the force or strength with which the motor operates. A motor with higher torque can push the needle through the skin more efficiently, even at slower speeds. This is especially important when working with larger needle configurations or tougher skin areas.
Vibration and Noise Level
A good motor will have minimal vibration. Excessive vibration can lead to hand fatigue and less precise work. When choosing a tattoo machine, look for one that boasts low vibration levels.
While this doesn't directly impact the tattoo's quality, a quieter motor can make for a more comfortable experience for both the artist and the client.
So how to Know the Motor is Good? A longer warranty often indicates the manufacturer's confidence in the product's durability and quality. So check to see if the manufacturer provides a one-year warranty.
In conclusion, the motor is the heart of your pen-style tattoo machine. Investing time in understanding its features and ensuring its quality will pay off in the long run, providing both you and your clients with the best tattooing experience.
Needle depth and stroke length
Stroke length is a setting that affects the style and nature of your work. It is essentially the distance between the start and end points of the eccentric movement, i.e. the greater the distance, the more force the needle will store for impact.
Strong strokes, i.e. long strokes are characteristic of more "hard" styles of tattooing, such as old school, tribal and black work. To work in such techniques, where it is necessary to push large bundles of needles under the skin, you need, accordingly, a longer stroke, from 4.2 mm and above.
The most universal stroke is 3.5 mm. For gradients and thin lines, sometimes tattoo artists use 3.2 mm. Anything lower is only suitable for permanent makeup.
That is, if you can customize the stroke length of your tattoo machine, you won't need multiple tools for different tattoo techniques if you work in different styles. Experienced tattoo artists who have decided on their specialization will prefer to buy a machine that is specifically designed for a certain technique of applying paint under the skin.
The needle depth should also be adjustable, here pay attention that the needle depth is adjusted in a comfortable way.
Ergonomics and weight
A comfortable grip and lightweight design can make a world of difference, especially during long tattoo sessions. Look for machines that are ergonomically designed and don't strain your hand.
Conclusion
Choosing the right tattoo machine is crucial for any artist. By considering the features, reading reviews, and trying out different options, you can find the perfect fit for your needs. Remember, the best machine is the one that feels right for you and helps you create beautiful art. Happy tattooing!