Best Wireless Tattoo Machines – Top Options in 2023
Wireless tattoo machines have revolutionized the tattoo machine industry, providing artists with greater freedom of movement and flexibility. With the advancement of technology, wireless rotary tattoo machines have become more powerful, efficient, and reliable. In this article, we will explore the best wireless tattoo machines in 2023, according to experts in the field. We will provide an overview of each machine's features, benefits, and drawbacks, to help you make an informed decision when choosing the right wireless tattoo machine for your needs.
How did we review?
To test wireless rotary tattoo machines and review them, we followed these steps:
Unboxing the machine and inspecting it for any damage or defects. Checking that all parts are included and in good condition.
Charging the machine fully according to the manufacturer's instructions.
Setting up the machine and adjusting the needle depth to liking or tattooing style.
Testing the machine on a practice skin to see how it performs. Then we pay attention to the following factors:

Battery life: How long does the battery last on a single charge?
Power: Is the machine powerful enough to create clean, crisp lines and shading?
Noise: Is the machine loud or quiet?
Vibration: Does the machine vibrate excessively or is it smooth?
Ergonomics: Is the machine comfortable to hold and use for extended periods of time?
After making the notes about the reviewed tattoo machine, we kept repeating the testing process with other rotary wireless tattoo machines to compare their performance.
This review includes our personal experience with the machines and recommendations we have for other tattoo artists. So by following this article, you can get the best quality rotary tattoo pen with a wireless tattoo kit.
FK Irons Spektra Flux
Determining the "best" tattoo machine can be subjective and depends on individual preferences and needs. However, the Spektra Flux wireless tattoo pen machine by FK Irons is widely considered to be one of the top tattoo machines on the market, both for its reliability and versatility.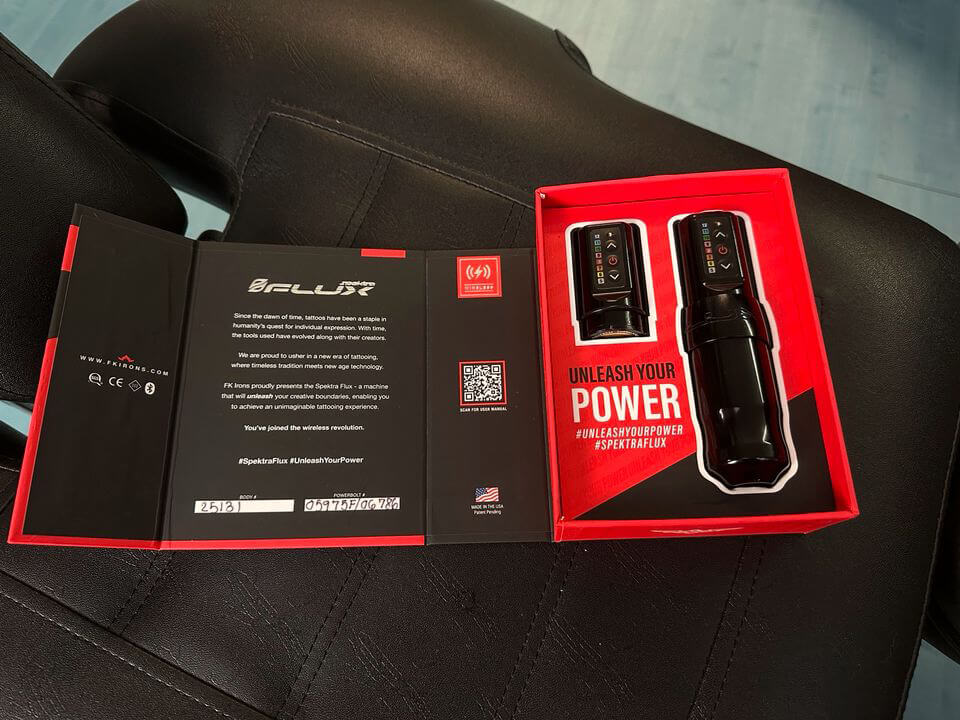 Few people know, but this pen tattoo machine has soft modes too, like the Cheyenne Unlimited. After using it for over 3 months, I learned about this feature and want to share it with you. How the softness modes work: step 1 – you press the power button until the light turns blue; step 2 – you switch modes with the up and down arrows. The higher you switch the mode, the softer it will be. The white indicator is the standard mode, green is the softest mode. Thus, there are a total of 6 different modes.
The softest mode feels good for black and white shadow work, for example. If you take a thick bunch of needles, turn on the maximum softness, and push the machine a little harder, you can feel it dropping a little at 9-10 volts. It feels as if a soft spring appears. This mode will also be useful if you are painting soft areas of the body, such as near your armpits, on your hip, or on the bends. This way it will soften the impact and not so traumatize the delicate skin areas.
Based on the reviews and feedback from professional tattoo artists, the Spektra Flux tattoo machine by FK Irons is highly regarded for its performance and versatility. It is suitable both for contouring ( it contours very well) and for coloring and shading, which means it can be your only tool for any task.
More about the features of use: the color indicator shows the volts, the step of volts – 0.5 volts. The internal design is simple so there is hardly anything to break. The power supply is easy to change and easy to use. The holder is aluminum and can be autoclaved or cold sterilized. The rechargeable battery pack takes 1 hour to charge and works up to 8 hours (although this is all individual and depends on the nature of use).
The ergonomic design is another feature that receives praise from users, with many noting its comfortable grip and reduced hand fatigue during longer sessions. The machine's wireless operation and long autonomy of the battery also make it a popular choice for artists who value mobility and flexibility in their tattoo work.
Overall, the Spektra Flux seems to be a top choice for tattooists who are looking for a reliable and versatile machine that can handle a variety of tattoo techniques. While individual experiences may vary, the overwhelming consensus among users is that the Spektra Flux is a high-quality machine that can help artists achieve their best work.
There is one caveat worth reminding newbies: if you don't yet know how to properly pull the skin into the job and other features of working with your client's skin, you might want to try a different tattoo machine that will be less traumatic for your client than this one.
Pros:
Long battery pack charge
The machine comes with two batteries 
Convenient control of voltages and modes of operation
Comfortable weighting, easy to hold in your hand
There are different modes of softness in operation
MAST ARCHER Wireless by DragonHawk
MAST ARCHER wireless tattoo machine pen is a nice price point where it's not too expensive but it's going to hold up. So this excellent value for money deserves our "Best Price" mark in this rating and review.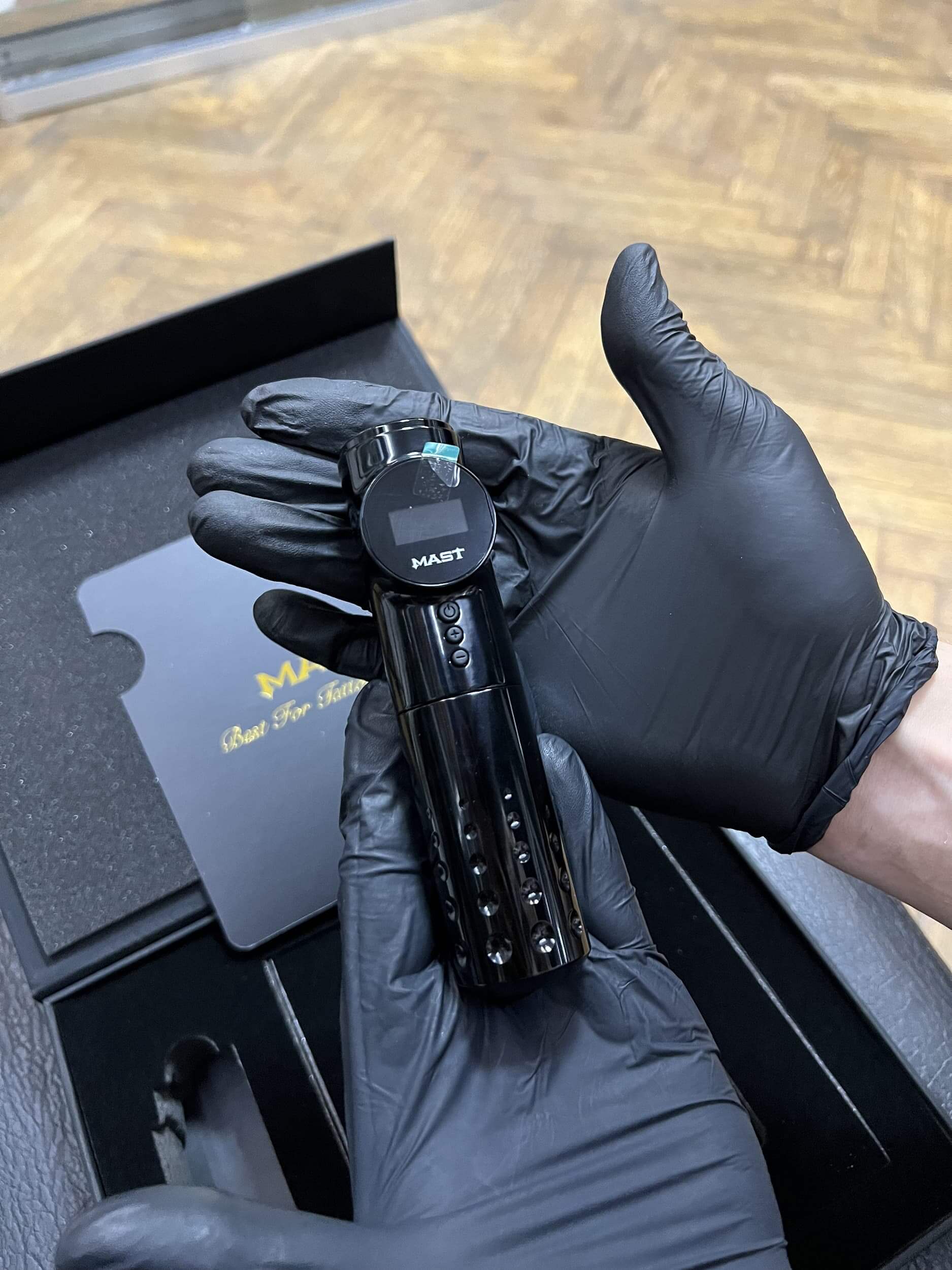 Why this machine is cool:
Very long battery life. The manufacturer claims about 8 hours of battery capacity. So let's go over this point. In fact, if you're not working at maximum voltage, this machine will last a lot longer. For example, after 6 hours of running at 8 volts, it shows me 70% operating life. So really, there is no fear that the machine will run out while working. It came pre-charged.

Very handy grip: by adjusting the tattoo needle's depth, the cartridge will not rotate.

Autoclave is also very convenient. The design is done intelligently in terms of sterilization.

Ergonomics. Lightweight, balanced in weight, comfortable in shape handle. The balance is actually very correct, it doesn't pull too much weight anywhere, and it is very comfortable to hold and operate this machine. The only issue is the way the machine is shaped it is a little awkward to wrap it up or just you should buy a bigger film cover to put it all with the display into the barrier covering.

The fact that you can get disposable grips with your title machine and you've got some sample ones that come with them is a really good idea.

It has a USB type-c charger as well that's really great because it fits in with a lot of the stuff you have.
What are the disadvantages?
The fact that you can't swap the battery out or it's not a modular system is the downside.
User Experience:
I tried to tattoo a big liner, small liner, and shader and have to say about if the Mast Archer able to push all of these kinds of cartridges. In all, it's doing a great job even with a thick liner being able to push it in there not really having any issues trying to fight a 14-round liner or 11-Magnum. Coloring with it as well I feel like this machine is a really nice machine for color blending and color packing. Also, it's not heavy so it was fairly comfortable to use.
More on features and specifications:
It has a working voltage of 5 to 12 volts
It also has a timer built in
Different case colors are available for purchase
Verdict
This is definitely an option for beginners or someone who is looking for a starter wireless machine to try if it is comfortable and efficient. Also, if you are not sure about your tattooing career, I would definitely recommend getting one Mast Archer. This would be your go-to option, it's not super expensive, and you don't have to invest a thousand dollars on a machine if you're not 100% sure now.
Cheyenne HAWK SOL NOVA UNLIMITED
The Cheyenne SOL Nova Unlimited wireless pen tattoo gun seems like an incredible tool for professional tattoo artists and for good reason. It has been on the market for a couple of years now, but it is still top-of-the-line in its product segment. It is innovative, reliable, and extremely user-friendly. So why it is so popular with a wide variety of tattooers and different tattoo styles? This is because such a small pen, a buzzer, without wires and other burdensome details, is able to give excellent quality, including in large-scale and complex tattoo projects.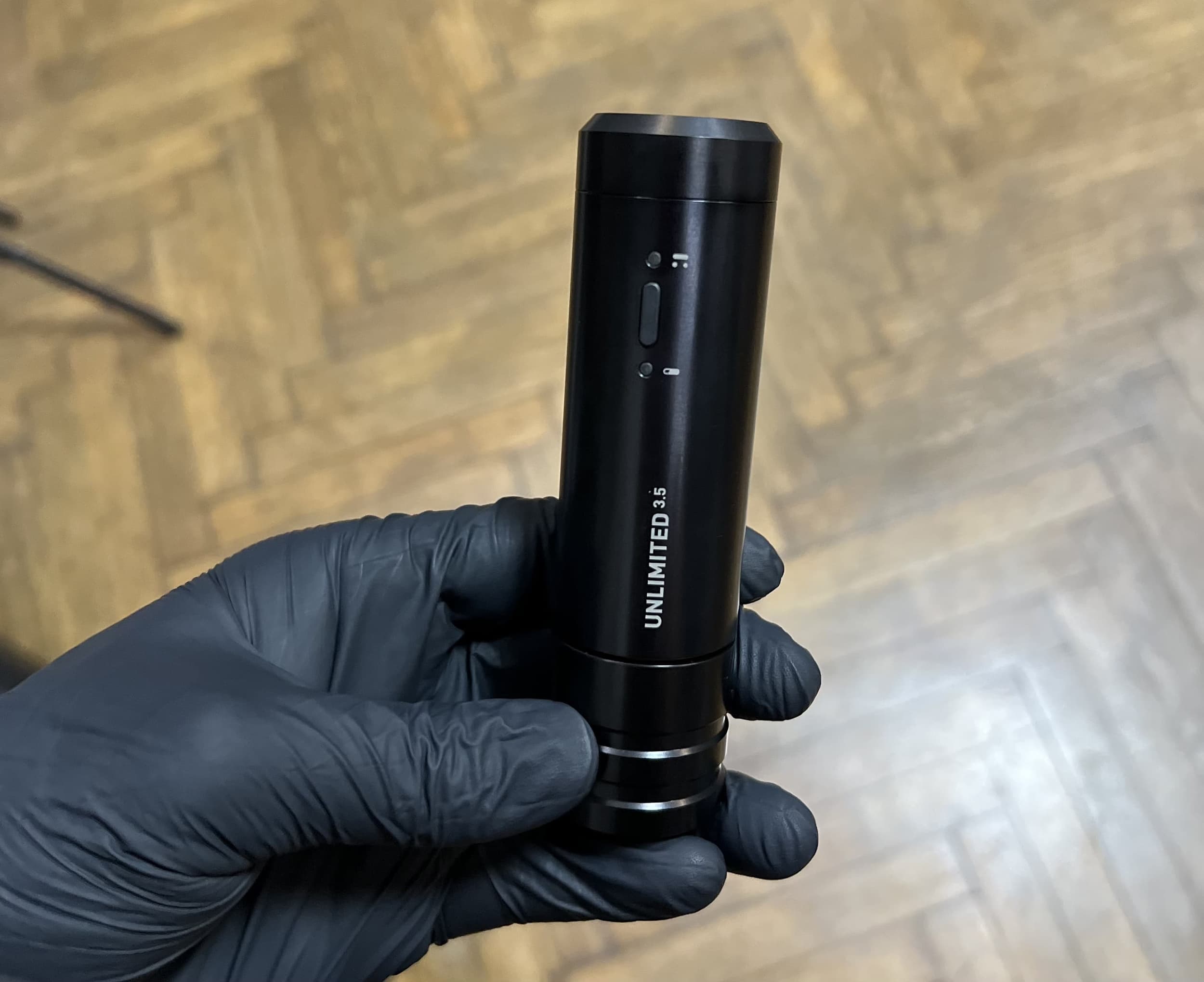 Pros:
Quality assembled construction and parts
Two different modes of operation, one of which adjusts to the skin
Innovative and convenient voltage adjustment
Batteries can be purchased easily
Nice packed product
Battery power does not drop when the battery level drops, it delivers the right amount of power
Holds battery long, charges quickly
I love that this machine's intuitive controls and built-in tilt sensors make it easy to start and control the machine with just one button, while also allowing me to adjust the voltage by tilting the machine in the desired direction. It has two operating modes, Steady Mode and Responsive Mode, which allow me to choose the frequency and power settings that best suit my needs. The machine's infinitely adjustable needle exit and wide motor range provide further flexibility and precision in my work. So, I love that the Sol Nova Unlimited is versatile and suitable for contouring, tinting, and shading.
The box and packaging is one of the most thoughtful and enjoyable to unpack of all the rotary tattoo machines on the market. The tube, case, tattoo machine itself, batteries, charging wire (micro USB), charging block, and instructions – that's the whole kit of the device. Very complete and clear instructions for use.
The Sol Nova Unlimited also comes with two batteries, ensuring that I can use it continuously without any downtime. I appreciate that the battery only takes three hours to fully charge, making it a quick and convenient process. What sets it apart from other rotary machines on the market is that Unlimited uses batteries that are used in other household items. That is, if you lose your battery, you can buy a new one without any hassle. Also an important detail about batteries: when the battery goes dead, that is, it shows yellow or orange, the machine does not reset the voltages and therefore continues to work as it should.
Cheyenne made a great job at designing this pen: its build quality is excellent and you can't really be bothered with any of the parts. It is convenient for both right- and left-handed people. The machine's quiet and silent operation is also a plus, as it helps me focus on my work without any distractions.
The device works easily on any skin and on any area. On bends and delicate areas of skin, the Adaptive Work Mode comes in handy. I like the fact that you can lower the volts quite low. Also based on the feedback from many tattoo artists who have used this device a lot in their work with clients, many have noted that clients "heal" better and faster.
Changing the voltages is done by changing the angle of the pen while the button is pressed. The maximum vertical position with the grip up is the highest power, and the grip down is the minimum power. The adjustment works at 360 degrees. The voltages are changed in steps and thanks to the manual, you will know at which tilt of the knob voltages will be set.
I also enjoy how this tattoo machine switches the stroke from 2.5 all the way up to 4.0: it takes a little effort to click it but I kind of like that.
The nuances – this machine is not so good at tattooing thick and dense contours, although the thin contour made by this machine looks great, even, thin, without interruptions – that's what you need. When covering the tattoo machine showed itself perfectly, as in principle, and all other tattoo machines from Cheyenne. It paints as a marker, there is no question about the quality of the penetration. So for the realist tattooists, this will probably be the perfect tattoo machine. And overall, SOL Nova Unlimited seems like an excellent investment for professional tattoo artists. Its high-quality construction, innovative features, and versatility make it a valuable addition to any artist's tool kit.
FK Irons Exo
Short pen, wide-diameter Exo has been on the market for a relatively long time. However, recently, FK Irons added an option – now you can unscrew the RCA module and screw in a wireless module, which is either sold separately, or two come with the tattoo machine (the cost of such a set will be a little more than $ 1100). Let's see for whom such a special tattoo machine is suitable.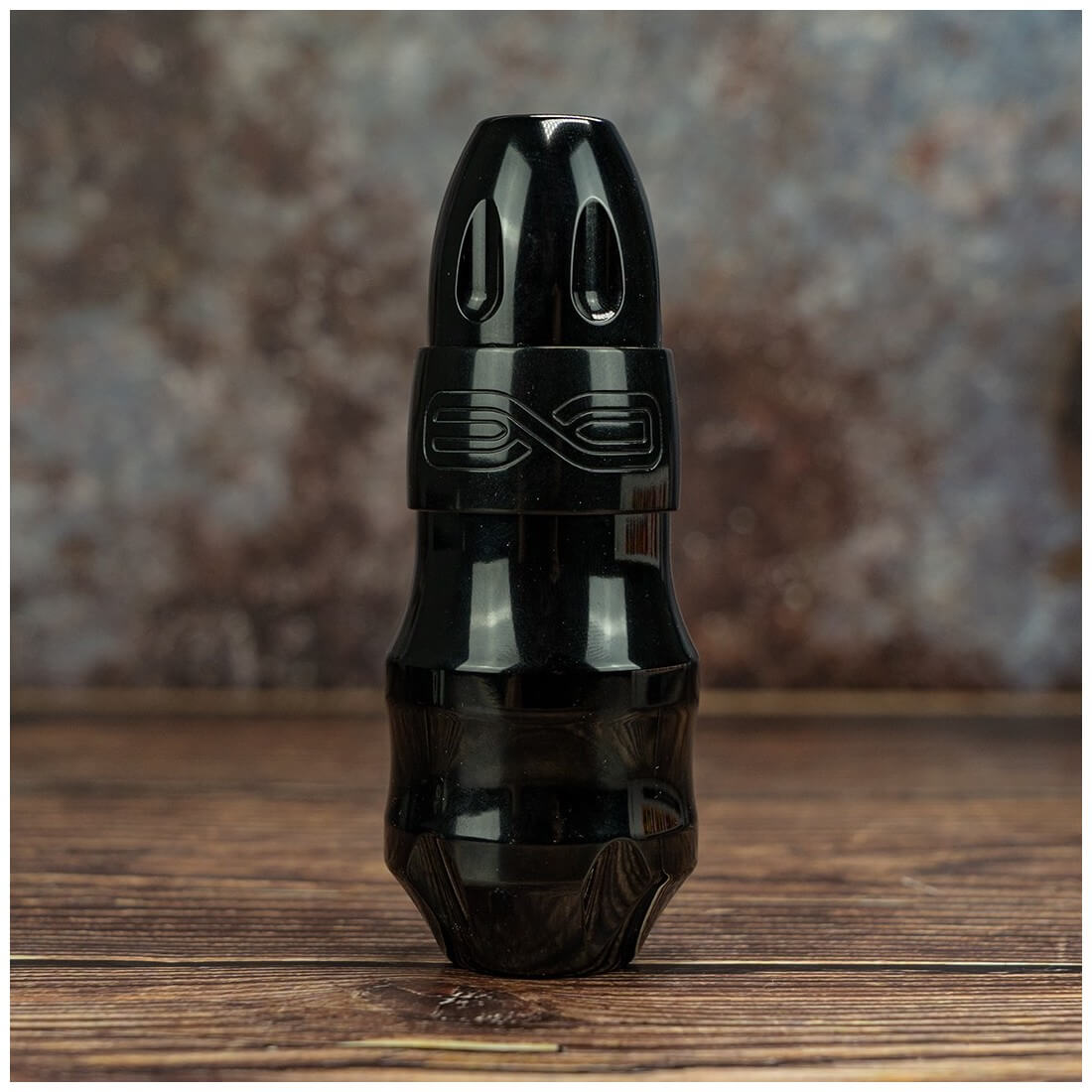 Pros:
Three different stroke lengths
Cross-compatible batteries for FK Irons machines
RCA connector is available
Perfect balanced
Really powerful
Robustly assembled
There are different case designs (including matte)
Cons:
Some consider her stroke too hard
High cost
Exo is made very well from the packaging to the batteries, tops, and other stuff that you'll get buying it. The EXO is available in three stroke lengths: 2.5, 3.2, and 4.0. To differentiate between these lengths, you can check the stickers on the inside of the machine.
There is a good and comfortable grip that feels pleasant in the hand and it adds a little bit more weight to the machine. You've got like the notches which just feel nice in the hand.
It's got a perfect weight: it's like front weighted and it's done to make the needle pressure on the skin stronger. This is not suitable for every tattoo artist's style of tattooing, but it is a popular option among those who tattoo often bold lines, as well as for color packing, and solid color in general. Also, as for me for black and grey the 2.5 mm stroke is extremely efficient and it causes less trauma to the skin.
Batteries are cross-compatible if you already have Flux cordless tattoo machine so you don't need to buy the batteries again. On one battery runs for about 10 hours. So it is an amazingly crafted machine and it is recommended for purchase for all tattoo artists who need a strong and whipping needle, as well as the ability to choose stroke settings.
Inkjecta Flite X1
This is a really controversial tattoo machine: some consider it a work of art, very technological and powerful (for which it is especially appreciated), but many also consider this machine absurd, inconvenient, unreasonably expensive, and generally do not consider the engineering solutions of the manufacturer of this machine valuable or convenient. So let me clarify right away: the device is heavily on the fan. Let's figure out who this device is good for.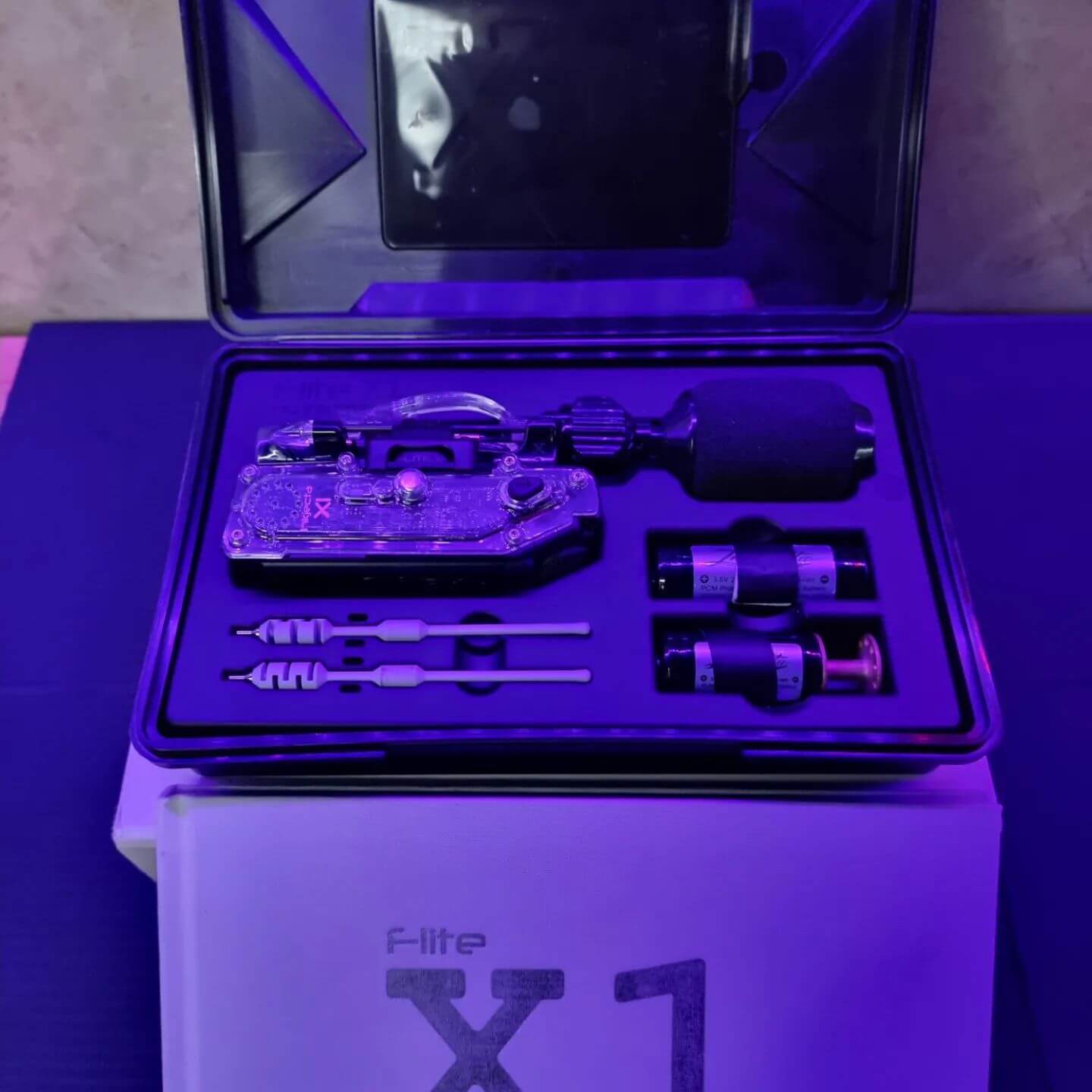 Pros:
Functionality wise
Good quality motor
Digital needle depth adjustment
Hits softly
Extremely robust design
Powerful
Cons:
Plastic body
High cost
The weight balance and size are not for everyone
When you first hold this machine, the first impression is the size, proportions, and shape. However, note that despite the bulky design, the machine is very light, only 240 grams with a grip. Ergo grip has got to be hands down one of the most comfortable and ergonomic grips I've ever used. It fits every single hand position so you feel like the way this machine was designed with that grip in mind to make it perfectly balanced. The ergo grip provides a good fit in the hand, so despite its unusual shape the machine actually has the right balance. So with the perfectly balanced ergonomic handle, all the weight is concentrated in your hand. Although it may still be a little uncomfortable for a small hand.
You also get a hard protective carry case that holds a 3.25 mm cam carbon rigid bar which is fitted medium torsion bar, hard torsion bar, 2040 milliamp battery, 900 milliamp battery, two port battery charges, an innox mx5 lubricant, magnetic key tools.
You can change the eccentrics. And you can also change the bars (pushers) to change the stiffness. Also, only in the vertical position with the holder up, you can adjust the reach, this is done by special buttons on the sides. The mechanism works with an additional motor that moves the main motor along the chassis. The main drive motor is a brushless motor made by InkJecta and the second motor is a worm drive that worm drive only drives the tattoo needle up and down. Actually, the needle exposure system is amazing, and very versatile, unlike other brands.
It is interesting that the machine turns off not just by pressing a button, but by pressing a button in a certain position of the device: with the handle upwards. The machine operates within a voltage range of 4.5V to 16.5V, and it can be adjusted by tilting the machine around its axis while pressing the button. The indicators on the housing help to determine how many volts are set.
So the body of the machine is completely plastic. And the price of the machine is looking at around about 1200 $ and that I believe is a little over the top. The plastic body is somewhat of a drawback. It's probably a good quality plastic but someone can feel it cheap especially compared to their Flite Nano tattoo machine. Also, the charging station for 8 batteries, which comes with the kit, is quite large, it is not really convenient, although, of course, not critical at all.
A little bit about reliability and power – the main advantages of this device. In fact, InkJecta's reliability is one of the main reasons many people love their products. Reliable, sturdy build and quality construction inside ensure the longevity of use. And of course, the power of the tool is one of the most important criteria for any tattoo artist. This model is a good choice for those who prefer power, speed, and creative design.
| Who it's suitable for: | Who it's not suitable for: |
| --- | --- |
| Who have used coil tattoo machines but want to get rid of wires or use cartridges | Who prefers pens |
| For black and white shadow work (very cool and softly paints) | Who needs a more balanced design |
Advantages of Wireless Tattoo Machines
With the rise of wireless technology, wireless machines have become increasingly popular. This is not surprising, because with a wireless tattoo machine, you're not tethered to a power source or limited by the length of a cord. This means you can move around more easily, adjust your position as needed, and work in more confined spaces without getting tangled up in wires. Wireless machines are also more portable, making them ideal for artists who travel frequently or work in multiple locations. Additionally, the lack of cords reduces the risk of tripping hazards or accidental damage to the machine. Overall, the freedom and flexibility provided by wireless technologies can greatly enhance the tattooing experience for both the artist and the client.
Buyer's Guide on Choosing a Wireless Machine
The world of wireless tattoo guns allows you to move with ease and precision, unbound by cords and outlets. But with so many options to choose from, how do you pick the perfect one for you? In this guide, we'll take a deep dive into this world, exploring the latest models, technology, and features. From battery life to needle depth adjustability, we'll equip you with the knowledge you need to make an informed decision.
So. now I can provide you with some general advice on choosing a cordless tattoo machine based on common criteria used by tattoo artists:
Battery Life: Look for a machine with a long period of work to avoid running out of power in the middle of a tattoo session. Most cordless machines have a time of operation of 3-5 hours of battery life, so choose one that meets your needs.

Weight: Cordless tattoo machines are designed to be lightweight, but some models may still be heavier than others. Consider the weight of the machine and choose one that is comfortable for you to use for long periods.

Motor: Look for a machine with a powerful motor that is capable of running at high speeds without stalling. The motor should also be quiet and vibration-free to provide you with more control and accuracy.

Adjustable needle depth: The needle depth should be adjustable to allow for more precise and controlled needle penetration, especially when working on different skin types and areas of the body.

Compatibility: Make sure that the cordless machine is compatible with the needle cartridges and power supply that you already have or plan to use.

Brand and Quality: Choose a reputable brand with a good reputation for producing high-quality tattoo machines. Read reviews from other tattoo artists to find out which brands and models are the most reliable and perform the best.
Remember, choosing the right tattoo machine is crucial to achieving the best results and ensuring a positive tattooing experience for both the artist and the client.
FAQs
Is it better for a tattoo artist today to buy a wireless tattoo machine or a wired one?
While new wireless tattoo machines offer many advantages, it's still important for modern tattoo artists to consider both wired and wireless models before making a purchase. Wired machines are typically more reliable and consistent in terms of power output, which can be crucial for achieving consistent line work and shading. They also tend to be less expensive than wireless models, making them a more affordable option for artists who are just starting out or on a tight budget.
On the other hand, wireless machines offer greater mobility and flexibility, allowing artists to work more comfortably and efficiently. They are ideal for artists who prefer to work in a more relaxed and fluid manner, without the restrictions of cords or power sources. They are also great for artists who travel frequently or work in multiple locations.
Ultimately, the choice between a wired tattoo machine and a wireless one depends on the individual artist's preferences and needs. It's important to carefully consider factors such as power output, weight, ergonomics, and compatibility with needles before making a decision. Whether you choose a wired or wireless machine, the most important thing is to find a high-quality, reliable instrument that will help you achieve your best work.
How long do wireless tattoo machines last?
Generally, a high-quality wireless tattoo machine should last for several years of regular use. However, it's important to keep in mind that the battery duration of the machine will gradually decrease over time, and eventually, the battery may need to be replaced. Additionally, the motor and other components of the machine may experience wear and tear, which can affect its performance and lifespan. To ensure the longevity of your tattoo machine, it's essential to follow the manufacturer's maintenance instructions and avoid overuse or misuse.
How long does a wireless tattoo machine run on one battery?
The period of cordless work of a tattoo machine can vary depending on the model and the type of battery it uses. Generally, most cordless tattoo machines offer a battery life of anywhere from 3 to 10 hours on a single charge. However, it's important to note that factors such as the motor's power, speed, and usage frequency can affect the battery time of operation. For instance, a tattoo machine with a more powerful motor may consume more energy and therefore have a shorter running time. It's also worth considering purchasing a backup battery to ensure that you have enough power for longer tattoo sessions. Ultimately, it's important to choose a cordless tattoo machine with a battery level that meets your needs and usage habits.
Conclusion
Whether you're looking to upgrade your equipment or simply curious about the latest technology, hope this guide helped you choose the perfect machine for your needs. From Spectra Flux to Mast Archer, all of them have something to offer in the tattoo artist's arsenal. Depending on your budget, your skills, and your goals, all you have to do is choose the one that fits your personal preferences. Otherwise, all the machines we reviewed in this article are worthy of your attention in one way or another.
We hope that wireless technology will continue to change the tattoo industry and make us, the tattooists, even more, independent of power sources and wires. That's extremely handy, wouldn't you say?