Best Tattoo Liner Machine for Fine Details and Precision Lines
To create precise, even and strict lines, you need the best liner tattoo machine on the market. Liner machines tend to operate at a higher speed than shader machines, which is necessary for creating crisp lines during the tattooing process. It's crucial to research different brands and models in the market and understand the advantages and disadvantages of each brand. So we've compiled a list of the top tattoo machines for lining on the market, including both coil and rotary machines, to help you make an informed decision based on your personal preference and experience.
Let's dive in and find the perfect liner tattoo gun for you!
How did we choose this top?
The length of the needle stroke is critical for the liner – a higher stroke length (around 4-4.5mm) allows for better ink saturation on lines. Therefore, this is an important criterion that we have primarily focused on when selecting these recommendations.

Then there is ergonomics: when tattooing lines and contours, your hand should be confident and not get tired. It is important that the weight and ergonomics of the tattoo machine correspond to your preferences.

Motor – Rotary motors are quieter and provide more consistent power. Coil machines are louder but many artists prefer them for responsiveness and feedback. So this rating includes both coil and rotary tattoo machines.

And then the choice was based on cost, brand, individual characteristics and features.
Cheyenne Sol Terra –

Best Rotary Liner
The Cheyenne Sol Terra is generally considered an excellent machine for tattoo lining. Here are a few reasons why it's a popular choice among tattoo artists for liner work. Lightweight: the Sol Terra weighs just 4.5oz (127g) with grip, making it very easy to manipulate for precise liner work. The lightweight aluminum frame reduces fatigue. Rotary motor uses a fast but smooth rotary motor that operates quietly while giving consistent power output for clean lines.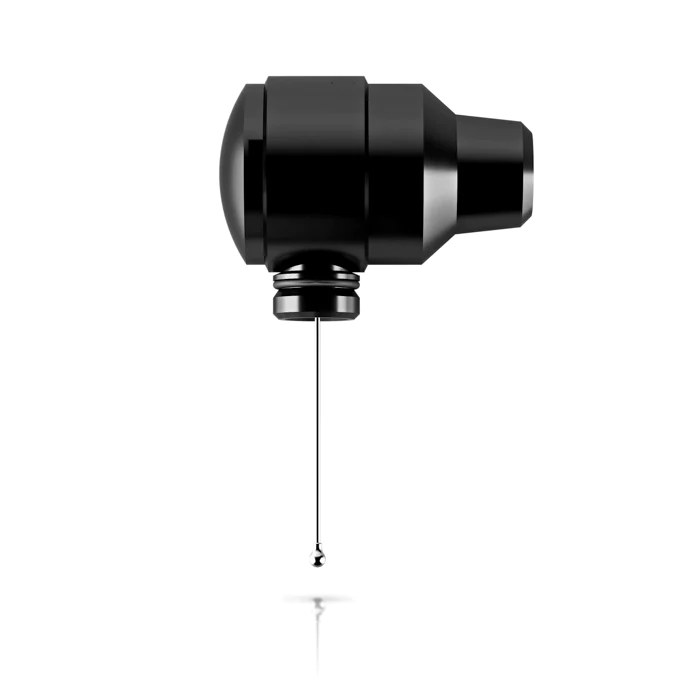 The Cheyenne Sol Terra tattoo machine has two drive modes that artists can switch between:
Soft Mode:
Lower power output and reduced motor speed.
Provides less aggressive needle penetration.
Allows lighter, more delicate lining work.
Good for shading and working on sensitive skin.
Power Mode:
Full power output and maximum motor speed.
Gives more forceful needle penetration.
Optimized for solid, saturated lining.
Allows faster work on thicker skin.
Preferred for outlining and doing whip shading.
The drive modes are controlled by a switch on the body of the machine. Soft mode works well for gentler tattoo techniques while Power mode is better for traditional bold lining. Having two modes in one machine allows artists to adjust the Sol Terra's strength for different needs, skin types, and tattoo styles without needing multiple machines. It provides versatility in one high-quality rotary liner.
Ergonomic grip is designed to fit comfortably in the hand in different hold positions to accommodate various artists' styles. Reduces cramping.
Precision: the machine is engineered for control and accuracy. The spring-mounted motor prevents unwanted vibration. It comes with an RCA power supply that provides steady voltage for optimal performance. At around $450 it's priced competitively for a high-quality liner from a top brand.
Verdict
So in summary, with its lightweight frame, rotary power, adjustable stroke, ergonomic grip, and precision engineering, the Cheyenne Sol Terra has the necessary features tattoo artists look for in quality liner machines. Many professional tattoo artists rely on it as their go-to liner for detailed work.
(It is also suitable for permanent makeup.)
Pros:
Two operating modes
Stroke length 4.00 mm
Ergonomic and lightweight design
Truly imitates the operation of old-school coil tattoo machines, achieving a whip-like and precise needle penetration into the skin
Very quiet operation
Low vibration
Quality motor
One Tattoo World 8 Wrap Coils Iron Liner Gun
Despite the fact that rotary guns have flooded the market, coil tattoo liners are still used by some tattoo artists who mainly work in so-called "hardcore" styles. This is not surprising, because even though coil guns are loud and vibrate a lot, they are often better suited for certain tattoo tasks. Also the nature of the needle stroke is different, the maximum momentum in coils is transmitted to the needle at the moment it inks the skin. So this rating would not be complete without a good coil liner gun. This time it's the One Tattoo World Iron.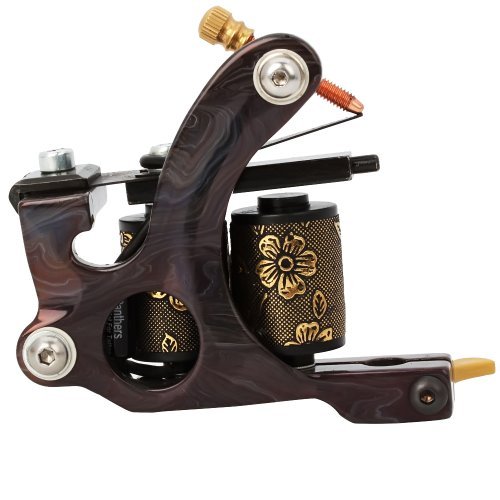 One Tattoo World liner coil tattoo machine offers an excellent combination of performance, customization, and value that makes it a great choice for both beginner and experienced tattoo artists.
Right out of the box, this machine impresses with its lightweight yet durable construction. The steel frame strikes an ideal balance between being sturdy while still easy to handle for prolonged lining work. Artists praise the machine's smooth performance capabilities once properly tuned, comparing it favorably to high-end models costing far more.
A particular highlight is the machine's versatile design. It ships with components ideal for lining, but can be fully customized by swapping parts like the spring and front coil to optimize for shading or different tattooing styles. This adaptability lets artists configure it precisely for their needs. The finish also comes in various metallic colors to suit personal taste.
For those new to tattooing, this machine delivers professional-grade quality without the intimidating price tag. It provides a perfect way to learn hands-on tattoo skills and experiment with machine tuning before investing in pricier equipment. Even as skills progress, the strong performance means it remains a reliable machine that can grow with an artist's experience.
Overall, this One Tattoo World gun earns acclaim for offering tremendous value. While budget-friendly, it provides serious capabilities for crisp, clean tattoo work in an adaptable machine built to last. For anyone looking for quality equipment on a budget, it's easy to recommend this versatile, well-constructed machine as an ideal starter kit or backup option.
Pros:
Very cheap
Customized specifically for contouring
Sturdy and lightweight frame
Nice design
Cons:
It requires more tuning out of the box than comparable top-tier cartridge machines
Noisy
Bishop Wand Liner and Color Packing
For tattoo artists seeking precision results in lining and detailed work, the Bishop Wand Liner represents the pinnacle of tattoo machine engineering. This innovative lining rotary pen combines top-shelf craftsmanship with a custom motor designed specifically to enable the ultimate in artistic control. It has received positive reviews on various platforms, including YouTube and Amazon.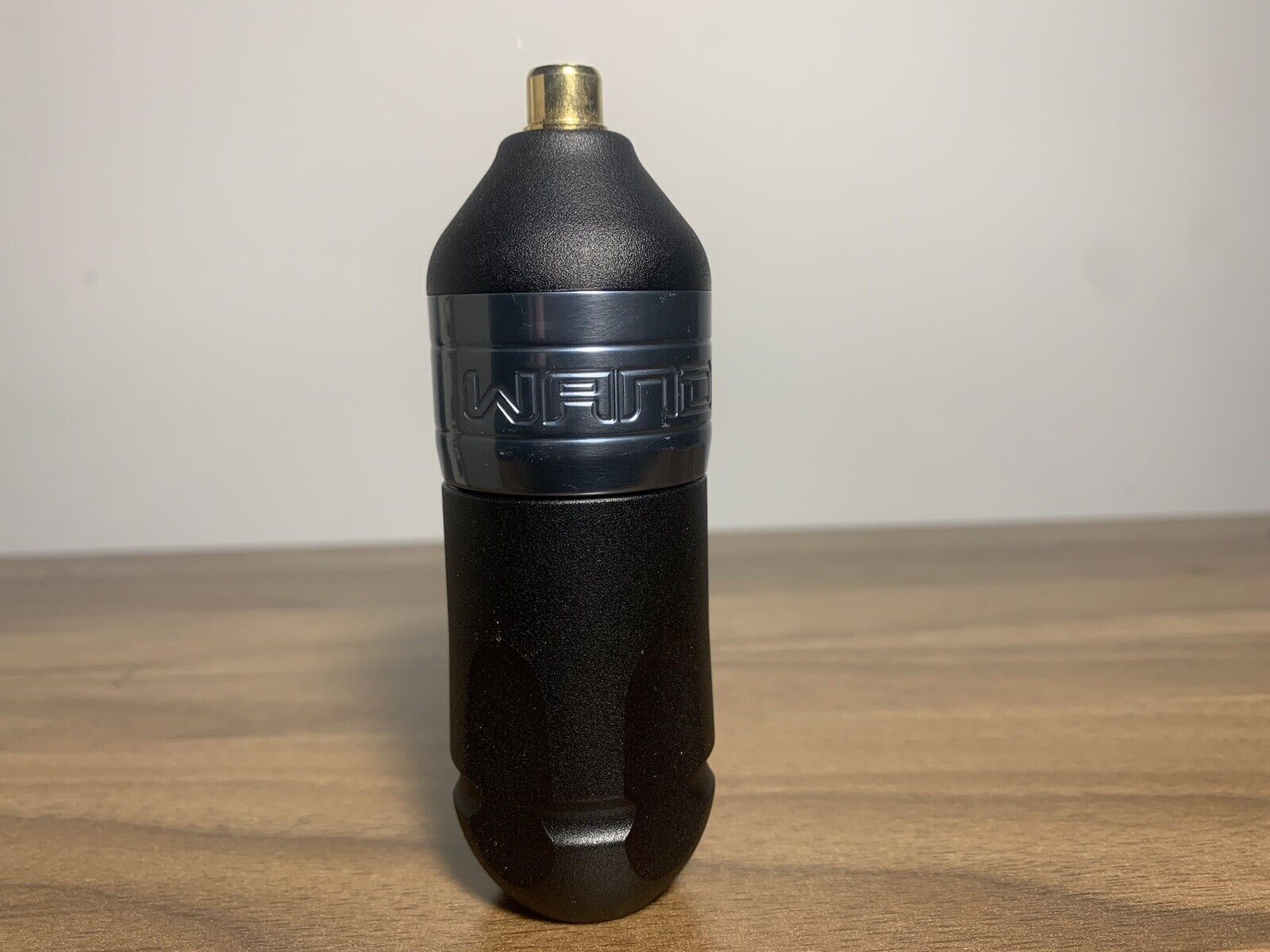 At the heart of the Wand Liner is its custom brushless motor, developed in collaboration with Faulhaber specifically for the demands of tattoo work. This motor delivers higher torque and speeds than standard options, resulting in extremely fast yet stable performance. Even at high operating speeds, the motor retains perfect composure without vibration or noise.
The Wand's lightweight, 120g frame consists of a matte-finished aluminum alloy sanded smooth by hand for ergonomic comfort. Everything has been optimized for reduced fatigue and maximum comfort over long-lining sessions. The fixed 4.2 mm stroke saturates liner needles.
Make no mistake, the Wand Liner commands a premium price, but it's easy to see where that money goes in the thoughtful engineering and custom machining. For those seeking the ultimate liner tattoo pen, the Wand delivers unmatched performance.
While great for all styles of lining, Wand is designed perfectly to excel at graphic-oriented techniques so it pretends to be best tattoo machine for fine lines. The power and stability give artists the confidence and control to execute intricate detail work at any angle. Crisp lines, surgical precision, effortless curves – this liner makes it not only possible but enjoyable.
So for artists who can afford the best and aim to take their lining skills to the highest level, the Bishop Wand stands in a class of its own. The best tattoo liner machine for any level of tattoo skill!
Pros:
Extra long needle stroke 4,2 mm
Comfortable for lining tattoo design and ergonomics
Light weight
Customized brushless motor from Faulhaber
Minimum vibration or noise
Dragonhawk 2pcs Brass
Dragonhawk continues to impress with their budget-friendly tattoo machine offerings in this versatile 2-piece coil machine set. Right off the bat, the solid brass construction stands out by providing excellent stability and reduced vibration compared to lighter aluminum frames. The substantial weight makes the liner coil gun of this kit well-suited for lining. Assembled liners weights around 257 g.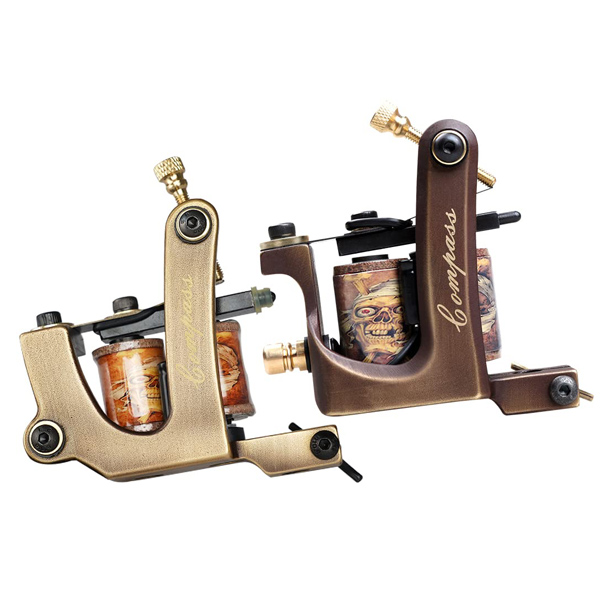 Considering the budget price, the performance is remarkable. The machines arrive well-tuned and ready for quality tattoo work after minor adjustments. The coils provide crisp, consistent operation without the cutting out, stumbling, or overheating issues often plaguing cheap coil machines. Run at 6-8 volts, they can crank out thousands of clean, sharp lines.
This level of performance reflects Dragonhawk's thoughtful components choice and reliable manufacturing. They smartly outfitted the machines with quality springs, grips, and mounting hardware that hold up to continual use, unlike the subpar parts found in many kits. With care, these machines will provide years of service.
For new artists, this set removes the barrier of buying solid equipment to start learning. The versatile configurations handle all the essential techniques to grow skills before upgrading. For experienced artists, they make great backups or loaners when introducing apprentices to machines.
While falling short of top-tier bespoke machines, the Dragonhawk coil set exceeds expectations to deliver impressive reliability and capability. For a generation of young artists, they provide an affordable gateway into the craft of tattooing with professional-grade tools rather than toys. Given the quality and versatility included in the box, it's easy to recommend this set as a first machine purchase. After all, it's hard to beat brass.
Pros:
Set of two cars
Cheap price
Powerful performance for clear contours
Cheap components and pieces to change
Cons:
Noisy
Need to know how to assemble and customize
FK Irons Spectra Flux
The Spektra Flux Wireless Tattoo Machine is a versatile machine that can be used for lining and color packing work. It has a 4mm direct drive stroke that is versalite for lining and color packing.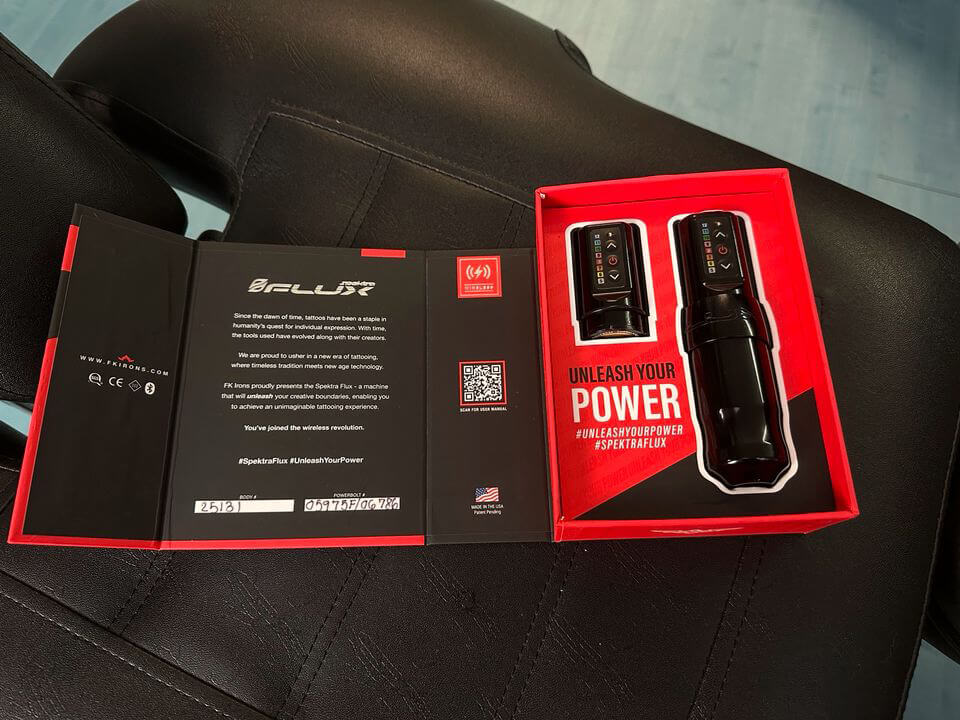 Also, its consistent power delivery and stroke make it suitable for both fine and bold lines. The direct drive system ensures that the machine runs smoothly, allowing for clean and crisp line work. Artists have reported that the machine's ability to maintain consistent speeds, even when working on tougher skin areas, makes it a reliable choice for lining.
As wireless tattoo machine that is suitable for lining, the Flux liberates artists from cables that can restrict movement and cause fatigue over long sessions. The lightweight 181g machine practically disappears in the hand. Without wires pulling, it responds instantly to the artist's subtle direction as if an extension of their body. The Spectra Flux comes with a robust battery that can last up to 10 hours on a single charge, ensuring that artists can work through long sessions without interruptions.
Powering this response is Spektra's patented digital rotary motor that exerts smooth, consistent force. Unlike noisy coil motors, the digitally-controlled power curve and high 30W output provide the exact power and responsiveness needed for crisp lines without complication.
On-board buttons allow the motor speed to be tuned between 30-140 Hz to match lining techniques. The integrated OLED screen clearly displays settings adjustments. At 130Hz, the Flux lays down extremely solid, saturated lines in a single pass.
The machine is designed to be lightweight and easy to hold, reducing hand fatigue during prolonged use.
Verdict: Spectra Flux is a strong lining tattoo machine that is suitable for both fine lines and oily lines.
Pros:
Extra long 4.00 mm stroke
Wireless Technology
Battery Life
Ergonomic Design
Direct-Drive System
Hard inking
Cons:
High price
Some artists have mentioned that, due to its wireless design, the weight distribution feels different compared to traditional machines
Dragonhawk Extreme
The Dragonhawk Extreme Rotary Tattoo Machine is a popular machine among tattoo artists. It is a versatile machine that can be used for lining and shading, and packing in color. But from personal experience, and as confirmed by a huge number of reviews from different tattoo artists, Dragonhawk Extreme is very strong for contouring and lining.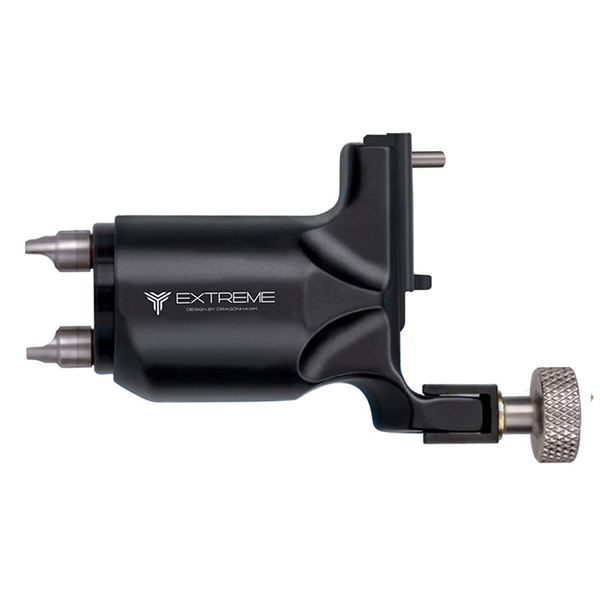 This machine features a strong direct drive motor that provides consistent power and minimal vibration during long tattooing sessions. The voltage range for this machine is between 5 to 12 volts, but you need to find the right voltages great for lining. Some artists have reported that the machine runs smoothly and can handle most liners up to a 9, but anything over that requires slowing down and sculpting lines.
The Extreme boasts a sleek and ergonomic design that feels comfortable in the hand. Its solid construction ensures durability, making it a reliable choice for both beginners and seasoned tattoo artists.
While the Dragonhawk machine can run cartridges, it seems to perform better with hoop bar needles. To effectively use cartridges, artists might need to adjust the voltage or start the machine without the cartridge and insert it afterward. The machine's performance is likened to the Bishop v6 3.5mm stroke length, emphasizing that a higher price doesn't necessarily equate to better tattoo quality. The motor's longevity is a point of contention; while it's efficient for shorter sessions, those looking to work on longer, detailed pieces might benefit from a machine with a more robust motor.
Its efficiency in ink usage, steady line work, and reduced pain for clients are notable features. However, it's worth noting that after extended use (4+ hours), the machine tends to heat up and may not maintain the same level of consistency, especially for detailed or larger pieces.
Given its features and performance, the Dragonhawk Extreme offers good value for its price. It's a great option for those who need a powerful, precise, and reliable tool at a very affordable price.
Pros:
Affordable price
Quiet Operation
Lightweight Design
Efficient Ink Usage
Offers consistent and precise lines
Cons:
The machine tends to heat up after extended use (4+ hours), which can affect its consistency
It's not as versatile as some rotary machines with armature bars
The standard needle stroke is 3.5mm, which is more for all-purpose than for lining
Lining With Rotary Tattoo Machine
Rotary tattoo machines are very well-suited for tattoo lining and can produce excellent results. With high-end rotary machines designed specifically for lining, experienced artists can execute tattoos with extremely crisp, clean precision and shading gradients. The smooth power delivery results in less trauma to the skin. Also, rotary motors tend to be quieter and smoother than coil machines for liner work.
Overall, rotary machines are absolutely suitable for professional lining work and offer some clear advantages over coils. However, coil machines still have a loyal following among some artists. So rotaries vs coils comes down partly to personal preference and hand strength. But modern rotary liners are more than capable of creating perfect lines.
Other Factors to Consider when Choosing a Liner Tattoo Machine
Look for a lightweight machine. You'll be doing intricate tattooing so you want a machine that won't cause hand fatigue. Carbon fiber or aircraft grade aluminum are good lightweight body materials.
Make sure it's comfortable to hold. The grip and shape of the machine should fit nicely in your hand. Try holding different machines to find the best fit.
Check the stroke length. A longer stroke length (around 4mm) allows better control for thick lines.
Consider adjustable voltage. Higher voltage gives more punch for saturating the skin. Voltage control lets you adjust power as needed.
Get a machine with crisp hits. Listen and feel for solid contact of the needle without flutter or bounce. This allows clean, consistent lines.
Choose small groupings and tight needle configurations for the thinnest lines. 3-5 needles soldered closely together works best.
Invest in high quality needles like round liners from reputable brands. Use the proper needles for your machine.
FAQ
What is the best stroke length for lining?
A needle stroke length of 3.5mm is the versatile range and can execute clean, crisp lines while still managing delicate shading and soft color packing. It's a recommended starting point for beginners seeking an all-purpose liner. However, a longer stroke length of 4.0+mm is typically only used for lining, as it packs in tattoo ink with hard-hitting. The extended stroke allows the machine to drive the needle more aggressively into the skin, laying down extremely saturated, hard-hitting lines. But this power comes at the expense of finesse and control.
What voltage should i use for lining?
The best voltage for lining can vary depending on whether you're using a rotary or coil tattoo machine and the type of needle. For coil machines, the voltage range is between 7.5 to 10 volts, while for rotary machines, the voltage range is between 4 to 8 volts. It's worth noting here that even the model of the tattoo machine will affect what level of voltages will be suitable to make it good contouring. So, it's important to note that the voltage setting will depend on the artist's personal preference and the type of tattooing they plan to do. For beginners, it's recommended to start with a lower voltage of around 6 volts until they feel comfortable with a quicker hand speed.
Using too high a voltage can cause the machine to feel too aggressive and reduce control over fine lines. With some machines, too low a voltage under 6 volts can cause stalling, inconsistent power, or excessive needle vibration.
Adjust your power supply's voltage gradually as you get a feel for the machine's response. This will help you dial in the optimal voltage. If working on thicker skin, you may need to go slightly higher on voltage to drive the needle sufficiently deep. Consider using lower voltages around 5-6 volts for delicate tattoo areas like fingers, palms, or faces.
Conclusion
When it comes to executing intricate, precision tattoo linework, having the right machine for the job is key. The top machines on the market today represent the pinnacle of tattoo technology. Brands like Cheyenne, Dragonfly, FK Irons, and Bishop have engineered exquisite devices purpose-built for liner work, often with lightweight frames, powerful precision motors, and ergonomic designs.
While high-end cartridge liners provide unmatched performance, artists on a budget can find excellent value in coil options from trusted manufacturers. Machines like the Dragonhawk or One Tattoo World give beginners professional capabilities at affordable prices.