The Best Tattoo Kits For Beginners And Any Skill Level
A tattoo kit is an all-in-one package, encompassing all the tools and accessories a tattoo artist needs. It can be a launching pad for beginners and a powerful arsenal for experts. In this article, we'll guide you through the best tattoo kits on any budget. Through a blend of expert analysis, user experience, and a touch of ink magic, we've distilled the vast ocean of options into a refined selection, curated to empower your artistic journey.
Top 5 Complete Tattoo Kits for 2023
From beginner-friendly sets to high-end professional options, these kits combine quality, performance, and value to offer an unparalleled tattooing experience. We've curated this list based on extensive research, expert reviews, and user feedback, ensuring the kits we recommend are top-of-the-line and up-to-date with the latest advancements in the industry. For more convenience, we've divided our ranking on a cost scale: choose the right budget and look for the matching kit in that list.
Under 100$
Dragonhawk Mast Tour –

Tattoo Rotary Pen Machine Kit
This is the best tattoo kit on the market today with four tattoo machines included. The Dragonhawk Mast Tour Tattoo Kit is an all-in-one perfect tattoo kit that you're looking for before starting a career as a tattoo artist. Reviewers have praised the Dragonhawk Mast Tour Tattoo Kit for its impressive performance and durability. The general consensus is that it provides excellent value for the price. Users have noted the consistent power of the tattoo pen, which can compete with many of the higher-end and more expensive models available in the market. A couple of reviewers have mentioned a slight learning curve when first using the pen, but once mastered, it can significantly improve the overall tattooing experience.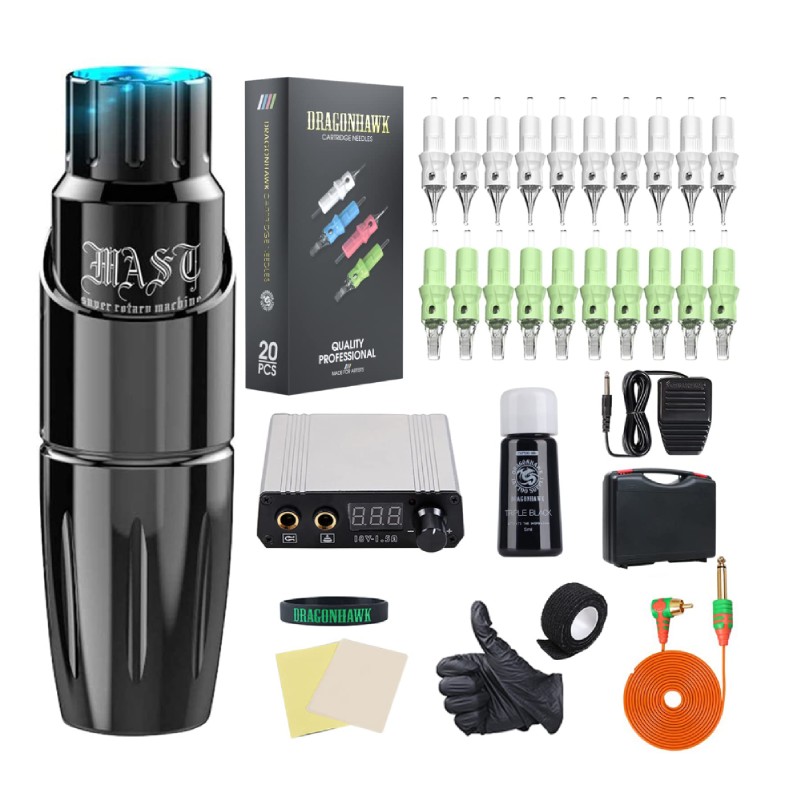 The general consensus is that it provides excellent value for the price. Users have noted the consistent power of the tattoo pen, which can compete with many of the higher-end and more expensive models available in the market. A couple of reviewers have mentioned a slight learning curve when first using the pen, but once mastered, it can significantly improve the overall tattooing experience.
First Impressions: At first glance, the kit has an appealing aesthetic and is packaged in a compact, yet sturdy case that is both lightweight and portable – perfect for artists who frequently travel or work at various locations. The components inside are well organized, providing an immediate impression of value and quality.
Kits' components: The Dragonhawk Mast Tour Kit comes with a tattoo pen, a power supply with cable, 20 pcs cartridge needles, a foot pedal, black tattoo ink, gloves, practice skin, and a carrying case. It's a comprehensive set that gives artists almost everything they need to start tattooing. The components in the kit are of high quality. The tattoo pen is constructed from space aluminum, which makes it both lightweight and durable. The motor in the pen is powerful and quiet, providing a comfortable experience for both the artist and the client.
The power supply is reliable and has a clear display, making it easy to monitor the voltage. The cartridge needles included in the kit are made from medical grade stainless steel, ensuring they are safe and sanitary for use and have the membranes to prevent ink spitback. The foot pedal and the case also seem to be robust and durable, adding to the overall impression of quality. It comes with an RCA cord. You can buy a wireless battery (just make sure it has RCA connector) to get a more seamless and less cluttered workspace.
The tattoo pen's design is ergonomic and lightweight, ensuring comfort during long tattoo sessions, which is a big plus for professionals. It is also available in different colors. The device feels comfortable in the hand, quality for its price. The grip is made of metal, which can be sterilized under gentle temperature conditions.
It's constructed with high-quality materials, including space aluminum for the frame and a Japanese motor, ensuring longevity and consistent performance. The working reach of the needle is from 2.5 to 4 mm. It works smoothly, feels like a pen or marker in your hand. The operating voltage is 5 to 8 volts.
In summary, the Dragonhawk Mast Tour provides outstanding value, especially for those just starting in the field or artists looking for a reliable and portable kit. The quality and performance of the components are impressive, particularly given the price point.
Pros:
Affordable
Handy and lightweight tattooo pen
The grip can be sterelized
Japanese motor
Stylish design
For both lining and shading
Lots of stuff in the kit
Membrane cartridges included
Cons:
Some might find this tattoo gun too small
Grinder Tattoo Kit by Pirate Face

Best Value
The Grinder Tattoo Kit by Pirate Face is one of the more popular choices for those looking to either start their tattooing journey. Combining affordability with a comprehensive assortment of tools, this set brings forth an offering that is hard to ignore. This review is based on personal experience, customer reviews, and a close examination of the kit's contents and their quality.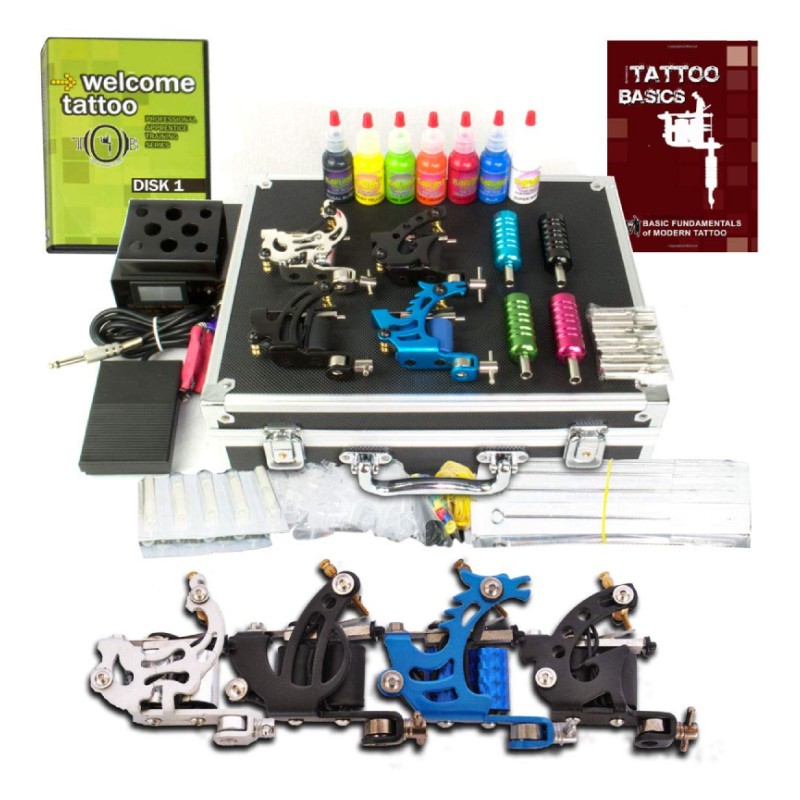 The Grinder Kit comes neatly packed in a compact carrying case. The set includes four coil tattoo machines (two for lining and two for shading), a range of inks, needles, a power supply, foot pedal, clip cord, and grip bands, among other necessary tattoo supplies like gloves and practice skin. It's clear that Pirate Face Tattoo has put thought into compiling a kit that caters to both intermediate and new tattoo artists.
The first thing you'll notice when you pick up the tattoo machines is their weight and build. They feel sturdy and well-constructed, hinting towards their ability to withstand long hours of work. The power supply is digital, providing precise control over the voltage, which is a must for consistent results. The foot pedal and clip cord feel robust, connecting easily with the power supply and machines. However, some users have reported the foot pedal to be somewhat sensitive, requiring gentle handling.
The kit provides a broad selection of needles, catering to a variety of tattoo styles. Still, professional artists might prefer buying high quality tattoo needles separately to meet their specific needs. In terms of ink, the Grinder Kit contains a selection of 7 colors. These inks are decent for practice or beginner work, but advanced artists might find them lacking in terms of vibrancy and longevity.
Overall, customer reviews lean towards the positive side, with special praise directed towards the comprehensive nature of the kit and the quality of the tattoo machines. The main criticisms lie in the quality of the inks, with some users suggesting buying higher-quality inks separately. The sensitivity of the foot pedal has also been flagged by some users as a potential area of improvement.
Verdict. The Grinder Tattoo Kit by Pirate Face is a solid investment for those looking to start their journey into the world of tattooing or for artists needing a travel-friendly kit. While the inks could see some improvements, the overall quality of the components, the variety offered, and the kit's user-friendly nature make it a worthy choice for many.
Pros:
Comprehensive kit: from multiple tattoo machines to a range of equipment
The coil tattoo machines are well-built and sturdy
Affordable
Portable
Easy to Set Up: Detailed instructions are provided, making the kit user-friendly, especially ideal for starters
Cons:
While the kit does come with 7 colors of ink, some users have found them to lack in vibrancy and longevity.
Under 200$
Mast Flip Wireless
After extensive use and research, the Mast Flip Wireless Tattoo Kit has proven to be a standout product in the world of professional tattooing. Not only is it user-friendly, it also includes high-quality components that come together to form a cohesive, easy-to-use package for both beginners and professionals.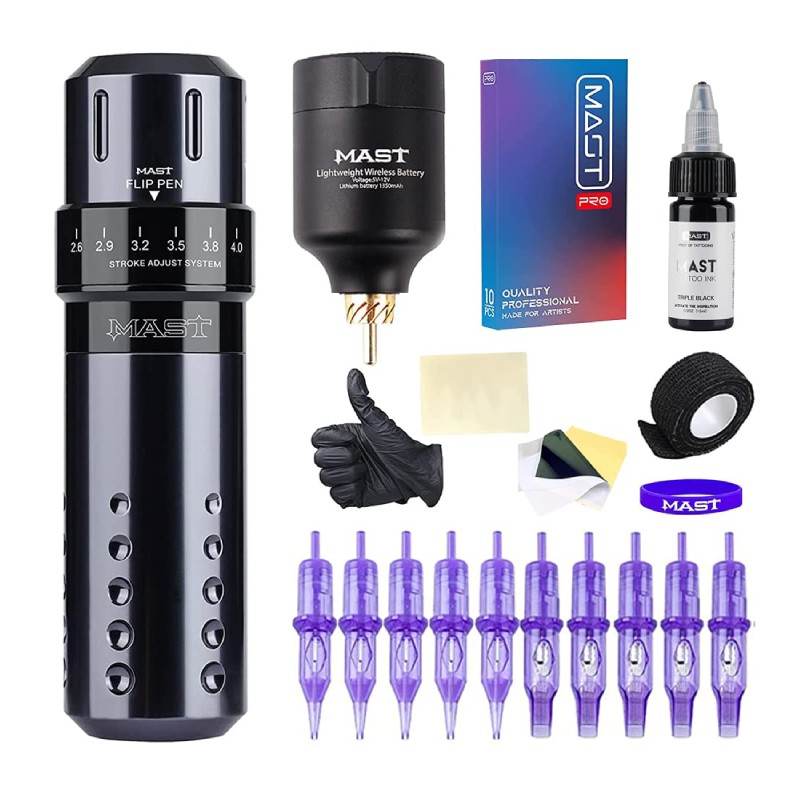 Quality is a crucial factor when it comes to tattooing, and this kit does not disappoint. The pen has been crafted with attention to detail. It's robust, with a quiet motor that reduces vibrations, ensuring the utmost precision. The needles, too, meet high standards. They are sharp, strong, and resistant to bending. The rotary tattoo pen is a major highlight. It is lightweight yet solid, with a pen-like structure that makes it comfortable to handle for prolonged periods. The adjustable stroke length of 2.6mm to 4.0mm is beneficial for accommodating various tattooing styles.
The kit also features a wireless power supply. This is a game-changer as it eliminates the hassle of wires, thus increasing maneuverability and ease of use. Also, the battery is intuitive and straightforward to use, with a digital display showing the voltage. The item also includes additional accessories like gloves, ink cups, grip cover, practice skin, and transfer paper. The 0.5 oz Black Ink Mast is obviously a small volume to work with, but it's a good place to start. It's pretty good quality, dense, and a rich black color. In any case, you will need to buy an additional set of paints.
Experience of Use: As an artist, the experience of using this kit has been quite pleasant. The comfort and control offered by the rotary pen is impressive. It doesn't cause fatigue, even after long periods of use. Furthermore, the absence of cables brings a freedom of movement that was not available with previous tattooing setups.
In conclusion, the Mast Flip Wireless Tattoo Kit is a top-tier choice for professional artists and beginners alike. It boasts superior quality, a comprehensive set, a comfortable and easy user experience, and has been generally well-received in the tattoo community. This kit presents great value for money and could be a worthwhile investment. However, the only thing we recommend is that you buy a couple of sets of extra cartridges and inks.
Pros:
Wireless Design
High-Quality Components
User-Friendly tattoo machine and power supply
Versatile
Really quality and durable tattoo pen machine
Cons:
Price Point
Not a large amount of each of the components
More then 200$
CNC P6 Adjustable Tattoo Pen Kit

Best Beginner Tattoo Kits
Introducing the CNC P6 Adjustable Tattoo Pen Kit, the ultimate tool for tattoo artists seeking precision and versatility. Experience the power of customization with the CNC P6. Designed to adapt to your specific needs, this machine offers three adjustable needle lengths. Whether you're focused on shading and black and grey work with the 3.0mm option, seeking an all-rounder with the 3.5mm, or aiming for impeccable lining and color packing with the 4.0mm stroke, the P6 has got you covered.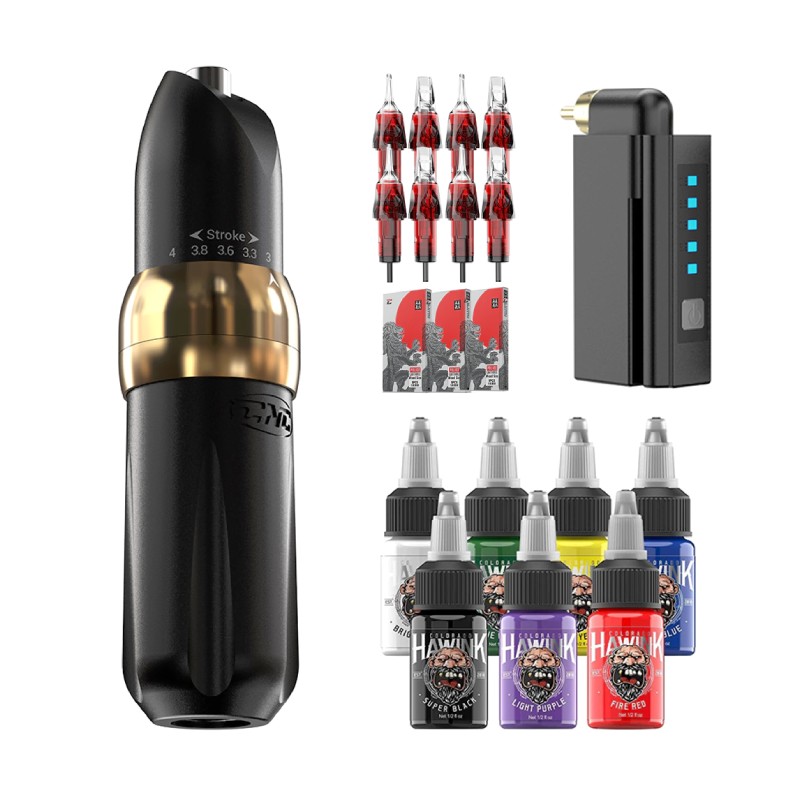 The P6 boasts an ergonomic grip that ensures comfort during long tattoo sessions. The CNC team has carefully engineered this pen to provide the perfect balance of control and ease of use. You'll appreciate the seamless experience as you glide through your artwork effortlessly.
The CNC P6 is equipped with a top-of-the-line Germany-made motor and a sturdy common RCA connection, guaranteeing durability and reliability. It effortlessly accommodates cartridges from all major brands, allowing you to choose the ones that suit your style and preferences. Additionally, the P6's low vibration and noise levels create a serene working environment, enhancing your focus and concentration.
Convenience and hygiene are paramount in the tattoo industry, and the P6 excels in both. Its shape enables easy wrapping and sterilization, ensuring a clean and safe working environment. You can rely on this pen to maintain the highest standards of hygiene for you and your clients.
The kit includes the P6 Adjustable Tattoo Machine, a 1500mAh RCA connector battery for extended use, three boxes of the new CNC POLICE cartridge needles (20pcs/box), and a set of seven vibrant tattoo ink bottles (Super Black, True Green, Royal Blue, Bright White, Fire Red, Light Purple, and Atomic Yellow).
Pros:
Fully adjustable stroke length
Ergonomic grip
High-quality German-made motor
Universal cartridge compatibility
Low noise and vibration
The product comes with warranty information enclosed in the package
Cons:
There are no additional accessories in the kit
Ambition Soldier

Best tattoo kits on amazon
Upon unboxing the Ambition Soldier Wireless Tattoo Machine Kit, it is immediately clear that it is designed with the user experience in mind. The machine itself is ergonomic, fitting comfortably in the hand even for long periods of use. The wireless feature is a major benefit as it eliminates the clutter and restriction of cords, offering a level of freedom of movement rarely seen in tattoo kits.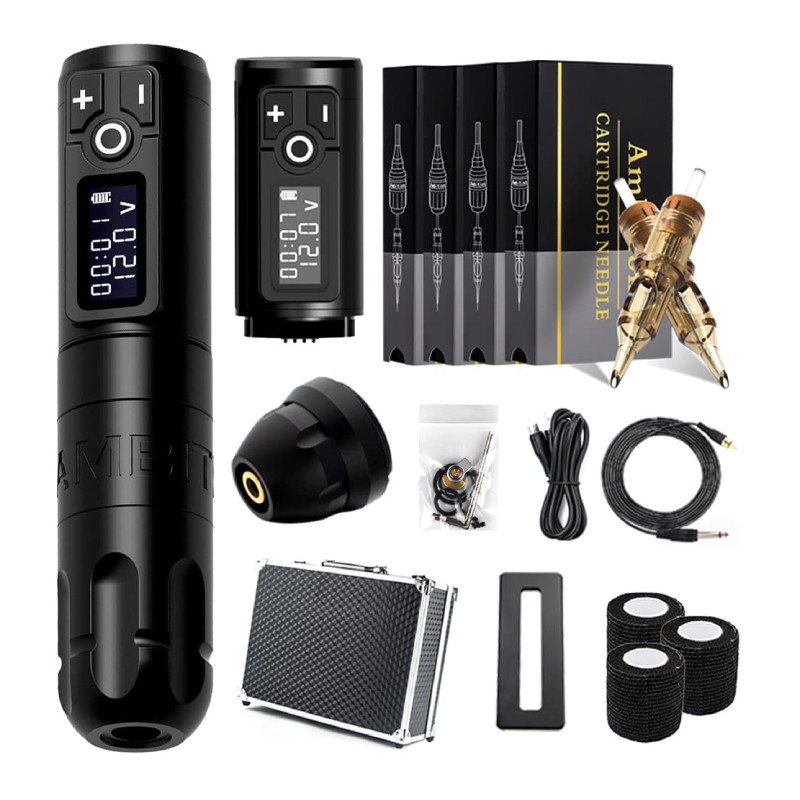 The interface on the machine is intuitive and user-friendly, with digital display of voltage settings, battery life. This allows easy adjustments of voltage, even in the middle of a session, and provides a high degree of control.
The quality of the components in the Ambition Soldier Kit is impressive but not enought for starting to work with clients. I mean, cool that the kit includes 80 cartridges of different types, a grip, 3 bandages, and 1pc 4.0mm stroke cam, but you will need to buy a set of inks, and other additional accessories needed for training and working with clients.
However, a nice plus of this kit is the carrying case and the extra battery, which allows you to charge one battery and work with the second battery in the meantime without interrupting your work process. Also, the cartridge needles included in the kit are varied, allowing artists to explore different tattoo styles and techniques.
The machine itself is well-constructed, with a sturdy and durable casing that can withstand long-term use. The digital display is clear and bright, and the controls respond smoothly and quickly. It is worth saying that this set is one of the highest quality in terms of the quality of the main tool – the tattoo gun. So you should definitely consider buying this kit if you plan to do tattooing for a long time and professionally.
Pros:
It's wireless with two batteries
Powerful and durable tattoo machine
Many different cartridges are included
User-friendly and versalite
High-quality batteries included: 10 hours of use + 2-3 hours on a full charge
Cons:
It doesn't include inks
It doesn't include additional accessories
If you want to buy a professional kit, we recommend paying attention to these kits or assembling it yourself with the help of our reviews:
Components of a Tattoo Kit
Tattoo kits are designed to provide artists with a convenient package that includes the essentials needed to create tattoos. Any first tattoo kit comes with a power supply (wired of cordless), a tattoo machine, needles, ink, and other accessories. Let's break down a typical tattoo set:
Tattoo Machine

Think of the tattoo machine as your magic wand. It's the tool that brings your art to life, injecting the ink into the skin. The machine can either be coil or rotary. Coil machines are traditional and make that famous buzzing sound, while rotary tattoo machines are quieter and smoother.

Power Supply

A reliable power supply is the backbone of your machine. It ensures that your machine operates at a consistent speed and pressure, guaranteeing high-quality results. It can be wired, but increasingly popular are wireless ones offering more and more stability and power.

Needles

Needles come in different sizes and configurations, each designed for a specific style and effect. For instance, you might need a round liner needle for outlining and a magnum needle for shading and coloring.

Inks

Just as a painter needs colors, a tattoo artist needs inks. The more colors you have, the more vibrant and intricate your tattoos can be.

Additional Accessories

These may include tattoo grips, tips, practice skin, transfer papers, cleaning supplies, and gloves. The more accessories included in the kit, the better prepared you will be.

Gloves: Tattoo artists wear disposable gloves to maintain a sterile environment and prevent the transmission of infections.

Stencil: A stencil is a paper or plastic sheet that contains the design outline which is transferred onto the skin. It helps the artist create an accurate and precise tattoo.

Green soap: Green soap is a liquid soap solution that is used to clean the skin before and during the tattooing process. It helps to remove dirt, oils, and bacteria from the skin.

Disposable razors: These are used to shave the area before tattooing to ensure a clean canvas for the tattoo and to make the process smoother.

Medical supplies: Every tattoo artist should have medical supplies such as antiseptic ointment, sterile bandages, and disposable paper towels to ensure hygiene and safety during and after the tattooing process.
It is important to note that professional tattoo artists prioritize hygiene and safety, following strict protocols to prevent cross-contamination and ensure a sterile environment.
Factors to Consider When Buying a Tattoo Kit (Buying Guide)
So, you're set on buying a tattoo kit. But before you do, there are crucial factors you need to consider. This is a big decision, not too dissimilar to buying a car or a house. Okay, maybe not a house, but you get the idea! You're investing in your artistry, so let's ensure you make an informed choice.
Tattoo Machine Type

Let's skip the details, because above we wrote about two basic types of tattoo machines. At the link, you can read in detail the analysis of types of tattoo machines, with the design features, process of work, pros and cons, and experience of use.

Quality of Power Supply

Your power supply is your tattoo machine's lifeline. A consistent power supply ensures your machine operates at a constant speed and pressure, crucial for creating professional-grade tattoos. Look for a power supply that offers a stable current and a flexible voltage range.

Range and Quality of Tattoo Needles

Tattoo needles are your brushes, and as every artist knows, the wider your brush range, the more intricate your designs can be. A good kit should offer various needle sizes and types, like round liners for outlines and magnum shaders for color fill and shading. Equally important is the quality of needles – ensure they're sterile and made from medical-grade stainless steel to prevent skin reactions or infections.

Quality and Variety of Tattoo Inks

Inks are your paints. The more colors you have, the more vivid your designs. However, not all inks are made equal. Look for high-quality inks that are vibrant, durable, and safe for the skin.

Additional Accessories

A comprehensive tattoo kit should come with essential accessories like grips, tips, transfer papers, cleaning supplies, and gloves. These extras may seem small, but they can greatly enhance your tattooing experience.

Skill Level

Are you a beginner or an experienced artist? Some kits are designed with newbies in mind, offering user-friendly machines and instruction manuals. On the other hand, professional-grade kits may provide more advanced tools and a wider variety of accessories.

Budget

Price matters, but don't let it be your only guide. Cheap tattoo kits can be enticing, but they often compromise on quality. That being said, you don't necessarily need to break the bank. Many reliable and professional-grade kits are reasonably priced. The goal is to find a balance between quality and affordability.

Brand Reputation

Finally, consider the reputation of the brand. Brands with a proven track record are more likely to deliver reliable, high-quality products. Read reviews, check ratings, and gather as much information as you can about the brand before making a purchase.
Frequently Asked Questions
What should I look for in a tattoo kit?
When choosing a tattoo kit, it's important to consider factors such as the quality of the tattoo machine, the variety and quality of the tattoo ink included, and the availability of tattoo needles for lining and shading. Additionally, it's essential to ensure that the kit contains all the necessary sterilization equipment to maintain hygiene and safety.
Is it worth investing in a professional tattoo kit?
Investing in a professional tattoo kit is definitely worth it if you are serious about becoming a professional tattoo artist. The right tattoo kits include high-quality equipment, a wide range of tattoo inks, and additional accessories that can help you enhance your skills and deliver superior results. An affordable tattoo kit is unlikely to work in a tattoo studio. You need a lot of consumables and the perfect tattoo gun, so consider putting together your own complete set of tattoo equipment if you're ready to invest in your profession. At the same time, these types of kits, like the ones in this review, are a great option for those who are just training and starting their tattoo art. You'll also need a lot more true black tattoo ink than is usually offered in tattoo starter kits.
Is it Safe to Buy Tattoo Guns Online?
Yes, it is safe to buy tattoo gun kits online, given you do your research and ensure that you are purchasing from a reliable tattoo equipment supplier. There are many tattoo kits for sale online, including beginner tattoo kits, tattoo kits for professionals, and even kits to make stick tattoos. One of the choices to consider is Solong Tattoo, a widely recognized brand known for unprecedented affordability. However, as with all online purchases, you should check out reviews, the buying guide provided, and the specifics of what is present in the kit.
Is it possible to learn how to tattoo using a tattoo kit?
Yes, it is indeed possible to learn how to tattoo using a tattoo kit. Tattoo kits are available for beginners who aspire to become professional tattoo artists. They are perfect for individuals who want to practice at a tattoo studio or for in-house practice.
There are numerous types of tattoo kits available in the market. These include kits for beginners, which are specially designed to help newbies learn the craft. A tattoo kit will help an aspiring artist understand the whole tattoo process, from creating the original tattoo design to applying it on skin. Each tattoo kit gives a different set of tools. These kits often come with items like ink caps, which hold the tattoo ink while you work, and a range of tattoo needles, giving an individual the opportunity to practice with a variety of equipment.
The best tattoo machine kits available in the market include those that come with an online guide. These guides assist beginners in understanding the different aspects of tattooing, from operating the machine to applying the ink. They can also provide insights into tattoo safety, which is crucial for any budding artist.
It is essential to note that while a tattoo kit is great for getting a feel for the equipment and learning basic techniques, nothing beats a formal tattoo apprenticeship under an experienced professional. A number of tattoo kits available online can assist with the technical part, but learning about sterilization procedures, skin types, and dealing with clients is best learned in a professional tattoo shop environment.
Therefore, while tattoo kits for beginners available on the market can help one get started, a blend of formal apprenticeship and self-practice using top tattoo kits is highly recommended for anyone serious about their journey to becoming a professional artist.
Conclusion
Remember, the best tattoo kit is the one that fits your needs and budget without compromising on quality. So, happy hunting, and may your artistic journey be as vibrant as your tattoo inks!