Best Tattoo Machines for Beginners
What is the cornerstone of an aspiring tattoo artist's dream? The answer lies in a tool that serves as an extension of their creativity – a tattoo machine.
As a newbie, entering this world of ink and needles can be as thrilling as it is daunting. The tools of the trade, especially the right tattoo machine, are no less important than the artist's innate talent. This article aims to unravel the enigma of finding the best tattoo machines for beginners, an integral part of the process that can set you on the path to becoming a master. Grab your gloves, adjust your chair, and let's delve into a guide that will not only reveal the best equipment for newcomers but also make that all-important first step in the tattooing world, a decisive one.
How we reviewed:
As a budding artist, the tattoo machine you select can significantly influence your learning process and the development of your skills. So when choosing the top for this list, we focused on the following criteria:
Type of Machine: When choosing a machine for a beginner, we would advise you to choose a rotary tattoo gun: they are lighter, quieter, and easier to handle, making them ideal for newbies. However, coil tattoo machines have another significant advantage: price.

Price: While high-end machines can be costly, it's not necessary for novices to invest in the most expensive machine right off the bat. However, beware of very cheap machines, as their quality can be questionable.

Versatility: an amateur, you're going to be learning a range of styles and techniques. A versatile machine that can handle both lining and shading will be beneficial in your early stages of learning.
After these criteria, we paid attention to: the ability to adjust, weight, ease of use, the number of reviews, reliability, a warranty from the seller, and which of the famous tattoo artists advises a particular device.
What tattoo machine should I start with?
So, after comprehensive research here's a list of the top 4 beginner-friendly tattoo machines available as of October 2023:
CNC Q2 –

The Best for Beginners
Most tattoo artists and other users agree that the CNC Q2 tattoo pen is great for new tattoo artists. Let's look at why it's ideal for beginners.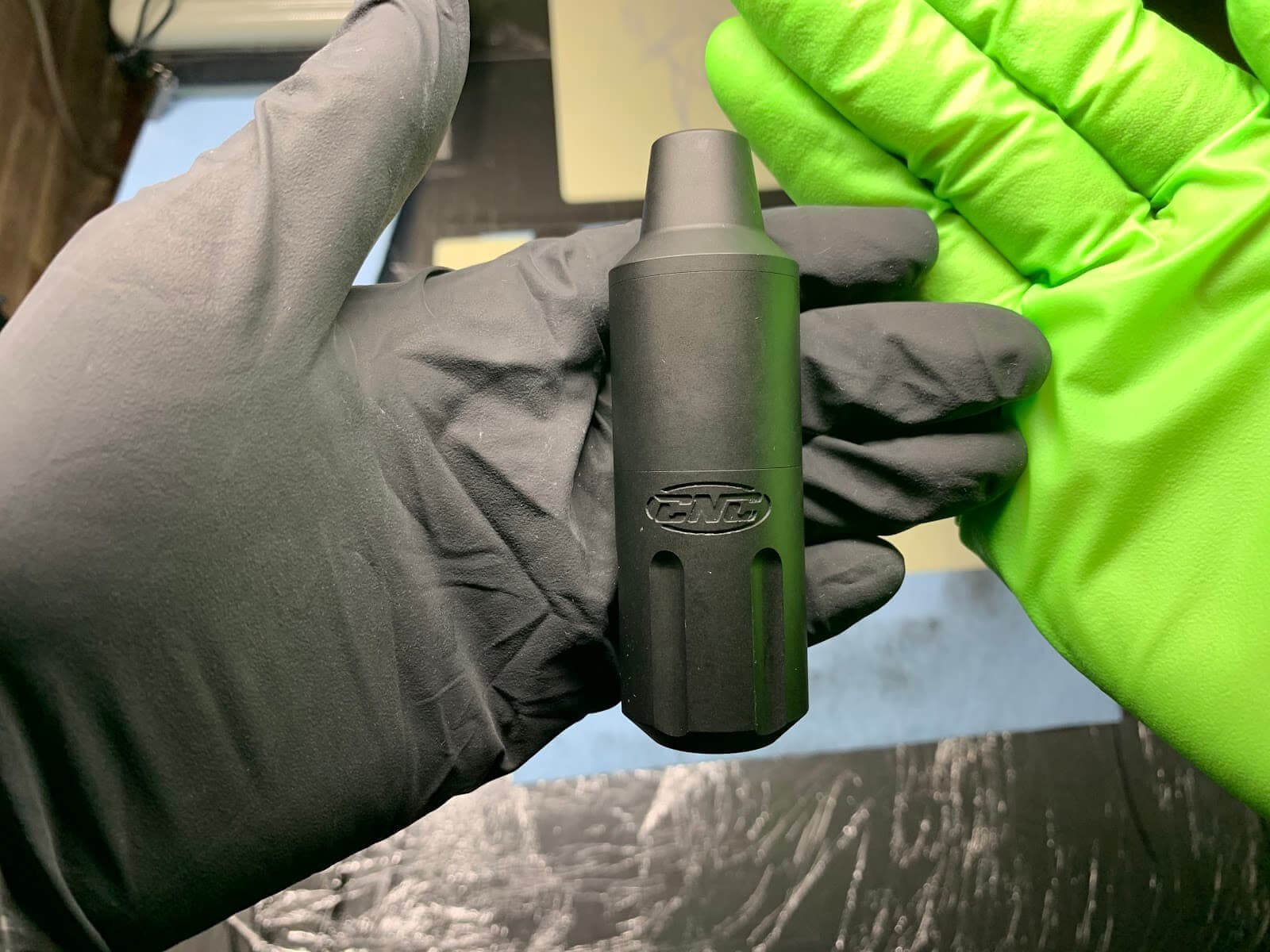 First of all, it costs about $150-$170, which is generally an appropriate budget for a beginner. When unpackaging besides the tattoo gun we have a user manual, o rings, and an allen key and they always put clip cords in the box. So let's see how the Q2 builds. This is a direct drive machine, and it is really small. The size is like the Bishop Wand series because it's a very simplistic machine. It seems that for a beginner it will be convenient: you can get used to a small instrument that is well-balanced and lightweight.
This pen-style rotary tattoo machine is designed for precision, offering a more stable operation than some other models. It stands out for its compatibility with a wide variety of cartridge needles so you won't have any issues with it not taking cartridges, and its adjustable needle depth gives artists greater flexibility and control when working on different styles and techniques. Its aircraft-grade aluminum construction not only ensures its durability but also contributes to its lightweight design, reducing hand fatigue during long tattoo sessions.
How's the use? The CNC Q2 can handle a range of tasks, including lining, shading, and color packing, providing a versatile tool for artists. It operates quietly and produces minimal vibration, which can make the tattooing process more comfortable for both the artist and the client. The design of the CNC Q2 mimics the feel of a pen or marker, providing an ergonomic grip that helps reduce hand fatigue.
The working voltage stays below 10 volts being above or at 10 volts can cause some damage to the machine. This starter tattoo machine feels comfortable and effective when lining and shading and packaging. And the best fact about this Q2 is that you can change your cams out so if you want a soft hit you can get a 3 mm cam and install it yourself. So one device will provide you with the ability to work on different strokes (3 mm, 3.5 mm, and 4 mm) which is very versatile.
Verdict
Considering its features and quality, the CNC Q2 is reasonably priced and provides good value for money, especially for novice tattoo artists so we think it is the best beginner tattoo gun.
Pros:
Reasonably priced
Small-sized and lightweight
Cam is possible to change to 3.0 mm, 3.5 mm and 4.00 mm
Versalite for mostly tattoo styles and tattoo techniques
Ergonomic grip
It's reliable, durable and powerful
Dragonhawk Tattoo Machine Kit
The Dragonhawk Tattoo Machine Kit is widely recognized as a beginner-friendly kit, offering a variety of tools that are perfect for those new to the tattoo industry. So, here's a detailed breakdown.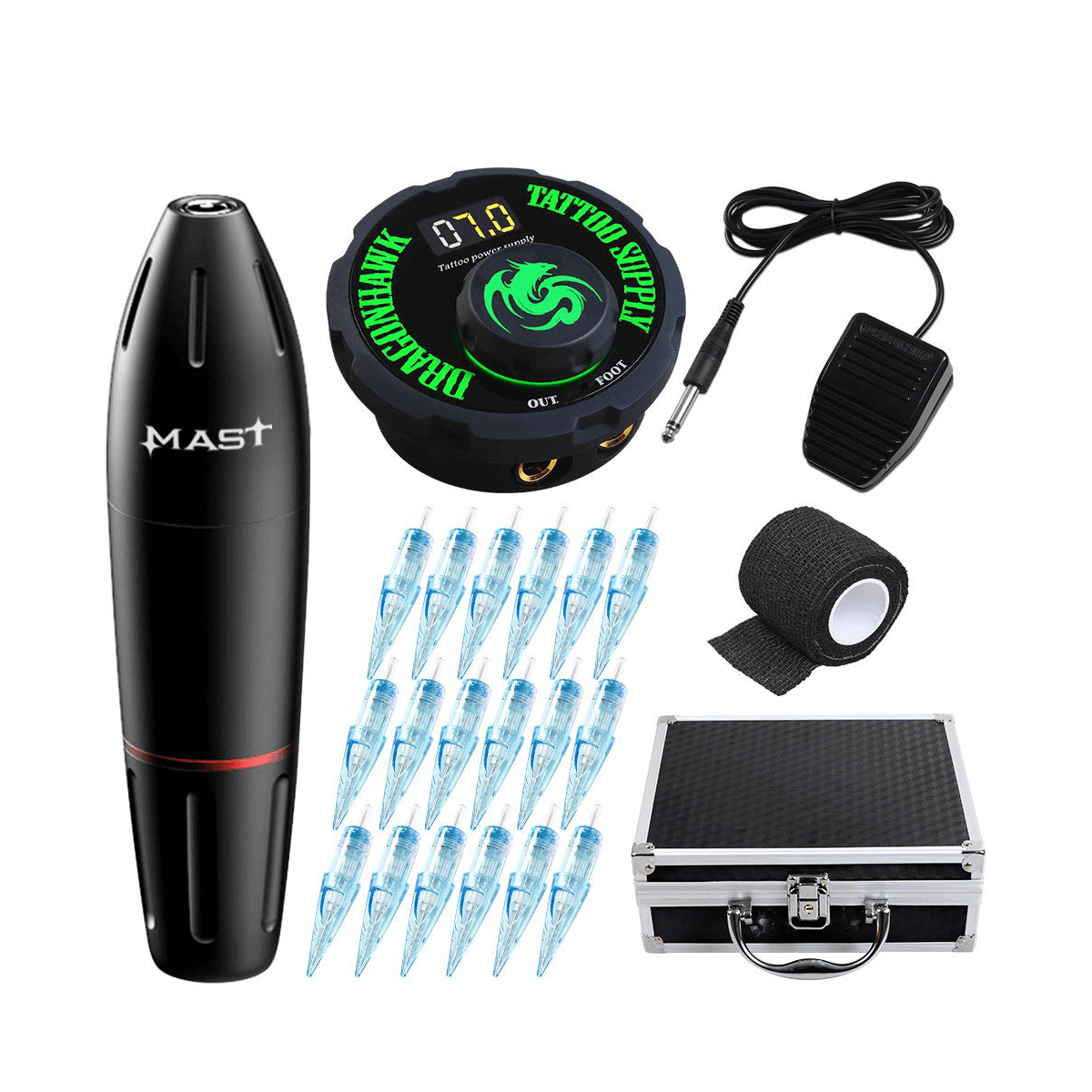 Why is it good for beginners? – Comprehensive Kit: The Mast Kit comes with a rotary tattoo pen, a power supply with foot pedal and clip cord, various sizes of cartridge needles. This array of equipment provides amateurs with everything they need to start practicing.
Despite being an entry-level kit, this starter best tattoo kit doesn't compromise on quality. The Mast tattoo machine is well-constructed, lightweight, and designed for steady control and precision. Also, the Mast tattoo gun is quite versatile. It pushes ink consistently, packs well with color and it packs lines well. So it's designed to be used for lining, shading, and coloring, enabling beginners to experiment with various techniques using just one machine.
It is worth saying that because the machine is low-budget, the parts and construction are somehow not as durable as those of expensive machines. Therefore, the machine requires good care and constant lubrication. Also, there is a spare slide and eccentric in the set, so that if you erase parts you can replace some parts yourself. Power supply that comes with the kit is completely adjustable and powerful enough.
User Experience: As for user experience, this starter tattoo Kit receives generally positive reviews. Many users appreciate the kit's simplicity and comprehensiveness, the ease of setup, and the quality of the tattoo machine itself. Beginners, in particular, find it provides an excellent introduction to tattooing, while even experienced tattoo artists often view it as a solid, affordable option for their work.
However, personal experiences can vary, and as with any product, there can be occasional issues or defective parts. Hence, it's always recommended to read up-to-date reviews and consider all aspects before making a purchase.
As always, remember that while this complete tattoo kit provides a great start, professional training and proper sanitation practices are absolutely necessary to ensure safe and responsible tattooing.
Pros:
Super affordable rotary pen
It performs great
It doesn't get hot in your hand
Comprehensive kit with everything you need
It's very easy to keep clean.
Cons:
The eccentric and slide can rub off and may need to be replaced (included).
Dragonhawk Mast Tour
One of the key features of the Dragonhawk Mast Tour is its compact size and lightweight design. This makes it highly portable and the perfect tattoo pen machine not only for artists on the go but also for starters.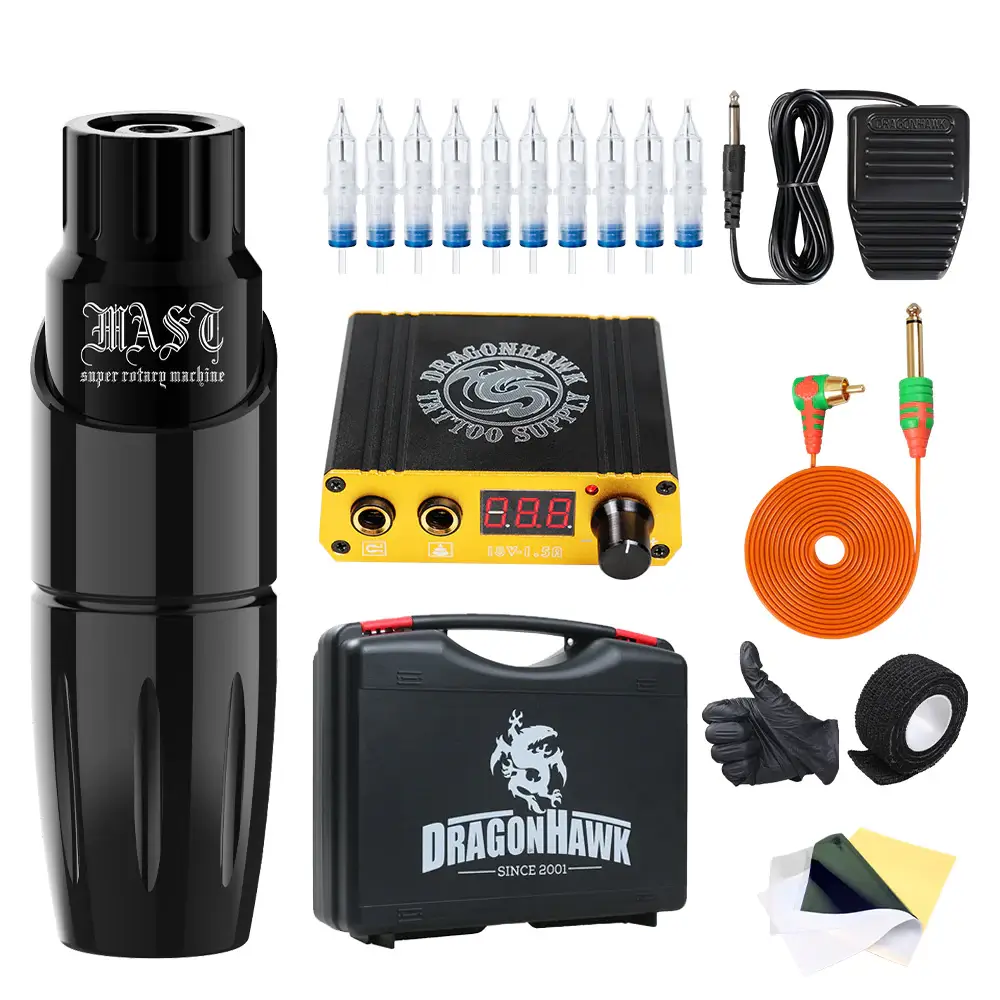 The first thing you notice is the stylish compact design of this pen. It is also available in different colors. The device feels comfortable in the hand, quality for its price. Any standard-sized cartridge will fit. The needle stroke is adjustable by turning the body (it is convenient even after wrapping). The grip is made of metal, which can be sterilized under gentle temperature conditions. It comes with a reliable power supply, RCA cable, cartridges, pedal, and even a can of tattoo paint – for only about $80-90. The RCA wire that comes with the kit looks squishy but this has its advantages: it feels light and easy to use this machines and work with it. Despite its small size, the Mast Tour doesn't compromise on quality. It's constructed with high-quality materials, including space aluminum for the frame and a Japanese motor, ensuring longevity and consistent performance.
Well, let's see how it works. The working reach of the needle is from 2.5 to 4 mm. It works smoothly, and feels like a pen or marker in your hand. The operating voltage is 5 to 8 volts, which is slightly lower than the previous device in our review. It's designed for both lining and shading. We made sure of this in practice, a very versatile tattoo gun. It provides a stable operation with lower levels of vibration compared to some other machines, which allows for precision and control during tattooing. Also, there is a work light on top of the housing.
User Experience: Users often highlight its reliable performance, ease of use, and portable design as its standout features. The overall consensus is that it's a suitable machine for beginners due to its simplicity and ease of handling, while also being a handy tool for experienced artists due to its consistent performance and portability.
CTM-tattoo verdict – This is a powerful little machine and a great startup for any of you.
Pros:
Affordable
Handy and lightweight
The grip can be sterelized
Japanese motor
Stylish design
For both lining and shading
Cons:
Some might find it too small.
FK Irons Spektra Flux Wireless
Determining the best beginner tattoo pen can be subjective and depends on individual preferences and needs. However, the Spektra Flux wireless tattoo pen machine by FK Irons is widely considered to be one of the top tattoo machines on the market, both for its reliability and versatility.
If you are ready to invest in the purchase of a more expensive and innovative tool, we suggest you pay attention to this product. This wireless tattoo machine has proven to be a game-changer, revolutionizing the tattooing experience not just for me, but for my clients as well.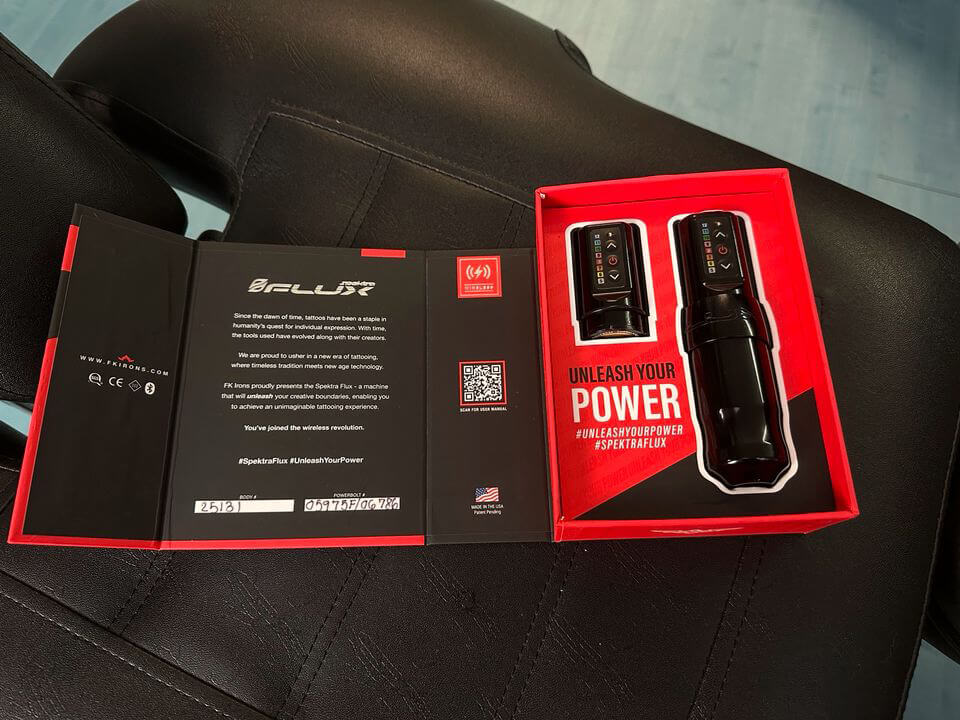 Firstly, the wireless feature is the standout. The freedom to maneuver without being tethered to a power supply is absolutely liberating. This feature, coupled with the lightweight design, significantly reduces hand fatigue during long sessions.
FK Irons has also taken the battery life into serious consideration. The Spektra Flux operates for up to 10 hours depending on the voltage used. The bonus is the USB-C port that enables dynamic power-path management. You can charge and tattoo at the same time when you're in a bind, enhancing productivity without compromising performance.
What impressed me about the Flux is its consistent power output. Despite being cordless, there is no sacrifice in the machine's performance. It offers a powerful and steady hit, resulting in precise and clean lines, smooth shading, and effective color packing.
In terms of maintenance, the Flux is designed with an autoclavable grip, making it very hygiene-friendly. This, combined with the absence of wires, makes clean up after sessions quicker and easier.
Design-wise, the machine is sleek, and the ergonomic tattoo design offers a balanced and comfortable grip.
Of course, quality comes with a price, and the Spektra Flux is no exception. It is definitely at the higher end of the market, which may be a downside for some artists. But given its excellent performance, ease of use, and convenience, I consider it a worthy investment for any serious professional.
In conclusion, the FK Irons Spektra Flux is a state-of-the-art tattoo machine, providing an unparalleled tattooing experience. It's innovative, efficient, and reliable – a fantastic tool that aligns with the future of tattooing. Highly recommended!
Pros:
Long battery charge
The machine comes with two batteries
Convenient control of voltages and modes of operation
Comfortable weighting, easy to hold in your hand
There are different modes of softness in operation.
What you should know when buying a tattoo machine if you're a beginner:
Here's some guidance on purchasing your first tattoo machine if you're a beginner:
Understand Different Types of Tattoo Machines: There are primarily four types of tattoo machines: coil, rotary, pen, and pneumatic.

Research Brands and Quality:

Several established brands in the market are known for their quality machines. Bishop, Cheyenne, Stigma, and FK Irons are just a few. Read online reviews and consider asking experienced tattoo artists for their opinions. Ensure the machine you buy is of good quality, durable, and reliable. Cheap, poor-quality machines can lead to subpar tattoos and potential health risks.

Consider the Weight and Ergonomics:

As you'll be holding the machine for extended periods, it should be comfortable and lightweight. Consider ergonomics as well, as a well-designed tattoo machine can reduce hand fatigue and help you work for longer periods.

Choose a Machine that Suits Your Style:

Different tattoo machines are better suited for different styles of tattooing. For instance, coil tattoo guns can be great for traditional or bold line work, while rotary machines might be better for shading or color packing. If you know what style you want to focus on, this can guide your choice of machine.

Understand the Power Requirements:

Tattoo machines need a power supply to operate. Some machines may require specific power supplies, so make sure to understand this before buying. Your machine, power supply, foot pedal, and clip cords all need to be compatible.

Budget:

As a beginner, you might not want to invest a lot of money in your first machine but remember, you often get what you pay for. Don't simply go for the cheapest option – consider it an investment in your art and your clients' safety.

Maintenance and Spare Parts:

Consider the availability of spare parts and know how to maintain your machine. Regular maintenance can enhance the longevity of your machine. Coil machines, for example, require more maintenance than rotary machines.

Complete Kits or Individual Items:

Tattoo kits are available for beginners, which include all the necessary tools and equipment to get started. While this may be convenient, the quality can sometimes be questionable. Experienced artists often recommend buying items individually for better quality control. A tattoo artist requires a variety of tools and supplies in addition to a tattoo machine to operate successfully. Here is a list of essential tattoo supplies: tattoo needles, inks, power supply and cables, tubes, grips, sterilization equipment, barrier film and covers, stencil materials, aftercare products, medical supplies, Personal Protective Equipment (gloves, aprons, and face masks), practice skin, waste disposal supplies, good lighting and tattoo bed or chair for tattoo studio.

Investing two or more tattoo machines:

Technically, a tattoo artist could operate with just one tattoo machine, especially if it's a versatile model like a rotary or pen-style machine. However, most professional tattoo artists choose to use more than one machine for efficiency and versatility.
Conclusion
In conclusion, equipping your tattoo business with the right machine, especially if you're just starting, can be a game-changer. We've explored some of the best beginner-friendly tattoo machines, like CNC Q2 or Dragonhawk Tour, each with their unique features and benefits. As a budding tattoo artist, selecting a machine should be based not only on its ease of use but also on how well it aligns with your style of tattooing, its maintenance needs, quality, and, of course, your budget.
Remember, purchasing a machine is an investment in your business and in the art you create. The right machine can help you produce better work, improve customer satisfaction, and ultimately enhance your reputation.
But let's not forget that the machine is just a tool – it's your skills, creativity, and dedication to your craft that will truly make your tattoo business stand out. So, alongside investing in a good tattoo machine, make sure to invest time and effort into mastering your craft and understanding your client's needs.
Running a tattoo business isn't just about making beautiful tattoos; it's about managing your resources effectively, delivering excellent customer service, and continually learning and adapting.
Choosing a tattoo machine is your first step in this exciting journey. Make it count, and here's to creating great art and a thriving business. Let you become a professional tattoo artist with one of these tattoo machines!